Fitness solution apps hit jackpot with slim pickings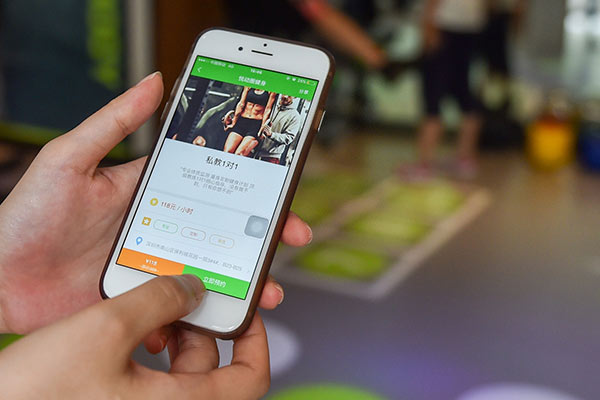 A mobile phone app that allows users to make appointments with fitness trainers.[Photo/Xinhua]
Fitness is becoming a passion in China.
A health-conscience generation is now willing to pay for the right regimes by linking up with exercise apps and joining online slimming clubs or camps.
Zhu Xiaoxiao targets these affluent consumers with his FitTime brand.
His company operates a mobile app of the same name offering personal fitness training, and two slimming "camps" for overweight people and new moms.
"It's really a huge market," said Zhu, CEO of FitTime, which is based in Wuxi, Jiangsu province.
"Driven by the desire for smaller waistlines and healthier lifestyles, more people, especially the younger generation, are willing to spend time and money on fitness and slimming courses," he added.
Zhu started his personal fitness business in 2013 before launching the FitTime app two years later.
It offers exercise videos, health tips, and a social platform for people to share opinions and interact with other users.
But now plans are underway to shift the focus to slimming camps or weight-loss clubs.
"Due to the remote nature of online training, it is really hard for us to spot the correct techniques or judge the process accurately," Zhu said.
"And it is also hard to make a steady profit in the long term through online, one-to-one personal training programs," he added.
His slimming clubs, or weight-loss camps, offer several different plans.
A popular one with online customers is a four-week training program on WeChat, which costs 998 yuan ($150).
Individuals can text chat with a personal trainer, as well as other members of the group with a similar body mass.
"We earned 10 million yuan via the newly established weight-loss camp last year," Zhu said.
To cope with fierce competition in the domestic market, FitTime also launched an online postnatal fitness training program for new moms during the summer.
The regime lasts 40 days and costs 1,999 yuan. It provides a wide range of services, including body toning courses.
FitTime has nearly 10 million users on all platforms, the company claimed, while 70 percent are females. More than 80 percent are between the ages of 21 to 35.
Last year, the online training and fitness firm received several rounds of financing, including a 50 million yuan injection of funds at the end of 2016.
Earlier, Zhen Fund and MatrixPartners China had pumped several million dollars into FitTime.
"The training sessions worked for me," said one customer named "Seeking for Happy Whale" during a post on the Chinese Twitter-like platform Sina Weibo.
"Trainers offered us dietary guidance and arranged personalized exercise plans for everyone in the group," she added, pointing out that she had lost 2.5 kilograms after four weeks.
"As all group members share the same goal, we cheer each other on all the time."
In a mobile sports and fitness report released during the summer by consultancy Analysys, about one third of China's population is overweight.
"Online weight-loss programs can amass a large amount of fitness data," said Qu Jing, an analyst at Analysys in Beijing.
"Then the operators can process the data and offer better solutions," she added. "And for users, they can access the professional trainers on mobile devices at any time and in any location."
Yet challenges still exist in a sector which is going through a digital renaissance.
"Remote training can reduce the efficiency of the workout," Qu said. "It can even be dangerous.
"The key is to figure out the best method of supervision when it comes to helping clients successfully lose weight and offer more specific personalized services," she added.