Profits of industrial enterprises surge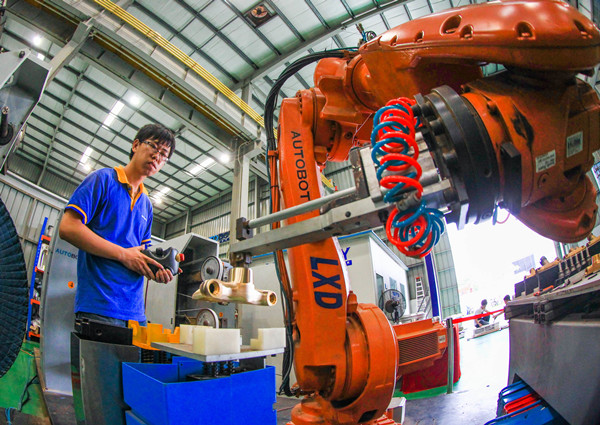 A worker assembles a robotic arm at a factory in Foshan, Guangdong province. [Provided to China Daily]
Profits of China's major industrial enterprises rose the most in nearly six years in September, and analysts said the trend of a high growth rate may continue as the country's reduction of excessive production capacities and pollution control are set to push up prices of industrial products.
Profits of major industrial enterprises in September rose by 27.7 percent year-on-year to reach 662.18 billion yuan ($99.5 billion), up from 24 percent in August, the National Bureau of Statistics said on Friday.
It was the strongest single-month growth since December 2011, when profits surged by 31.5 percent.
In the first nine months combined, profits of those enterprises reached 5.58 trillion yuan, up by 22.8 percent year-on-year. It was 21.6 percent in the January-August period.
He Ping, a senior official of the NBS, said in a statement on the bureau's website that the strong profit growth in September was mainly caused by accelerating production and sales of industrial goods and the steady rise of their prices.
China's supply-side structural reform since early last year has led to reduction of excessive production capacities, which, coupled with the country's crackdown on polluting production and higher prices for international commodities, has pushed up prices of domestic industrial goods, such as steel and copper.
The price rises have greatly benefited industrial enterprises, such as Aluminum Corp of China, which announced a plan on Thursday to invest 16 billion yuan in five of its subsidiaries after posting a more than tenfold rise in net profits for the first nine months. The company said the exceptional profit growth is attributable to an improving market environment as a result of the country's deepening supply-side reform.
Xi Jinping, general secretary of the Communist Party of China Central Committee, told the recent 19th National Congress of the CPC that the country will move from high-speed to high-quality growth and continue to press ahead with supply-side structural reform.
Officials and analysts said the industrial sector will continue to register a high growth rate in the coming months.
Zheng Lixin, spokesman for the Ministry of Industry and Information Technology, said on Friday, "We estimate the industrial economy will maintain steady growth in the fourth quarter, and enterprises' profits will keep growing as more efforts are made to accelerate industrial restructuring and upgrading."
Due to high base effect, the industrial profit growth may slightly moderate in the coming months, but will remain at high levels thanks to the stable overall economic growth and warm-up of international demand, analysts said.
"Supply expansion still lags behind demand, which is conducive to price rises," said Zhu Jianfang, chief economist of CITIC Securities. "China's economic growth may continue to be kept between 6.5 percent and 7 percent, which will help maintain stable demand for industrial goods," he said.