Shoppers opt for brick-and-mortar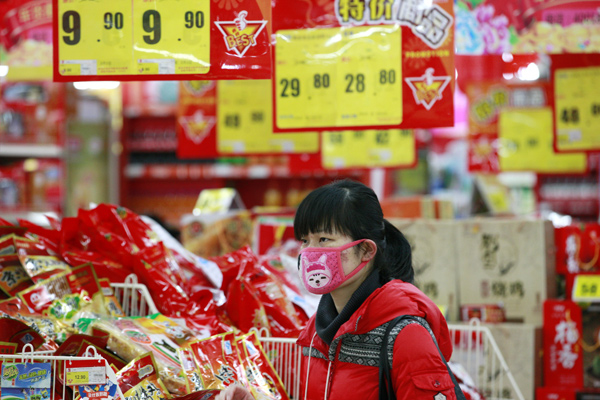 A customer at a supermarket in Huaibei, Anhui province. Kantar Worldpanel, a global leader in consumer behavior analysis, found that improved shopping experiences were drawing Chinese consumers back to brick-and-mortar stores. [Photo by Xie Zhengyi/For China Daily]
Kantar Worldpanel report reveals preference for traditional retail
Things have changed at Wumart Stores Inc's Lianxiangqiao store in Beijing. Thanks to the store's mobile app, customers can now check out on their mobile devices to save time.
"Since the app was launched at the beginning of this year, more than 40 percent of Wumart members are now aged below 30 years old," said Liu Guihai, who runs Dmall, an online-and-offline retail platform that developed Wumart's app.
Improved shopping experiences due to better use of technology are drawing consumers back to brick-and-mortar stores across China, an industry report found.
Kantar Worldpanel, a global leader in consumer behavior analysis, found this is a national trend. Modern trade-including hypermarkets, supermarkets and convenience stores-saw spending grow at 2.9 percent in the third quarter this year compared to the previous quarter, according to its report.
Offline channel spending grew by 2.2 percent, which is slower than the total trade. Across all regions, the markets in western and southern China reported a more upbeat trend, up by 6 percent and 4.2 percent, respectively. Key cities and provincial capitals grew slightly faster than the average too, up 3.7 percent.
Spending on fast-moving consumer goods grew by 3.6 percent, indicating a clear industry recovery.
Kantar Worldpanel's report found that, among international retailers, Wal-Mart Stores Inc and Carrefour Group have started to see share recovery on a quarterly basis.
"Although they are still closing non-performing stores, they are proactively reformatting their existing stores to be more competitive and appealing to shoppers," according to Jason Yu, general manager of Kantar Worldpanel China.
Walmart and Carrefour are introducing new stores that are 30 percent to 50 percent smaller than the previous ones. The aim is to make their merchandise more accessible, while reducing the non-food sales area, Yu said.
In order to seek growth in the new retail era, most of the leading retailers have adopted a more aggressive offline and online strategy, by providing an integrated shopping experience with multichannel offers.
Gross merchandise volume generated from the cooperation between Walmart and JD Dao Jiao-a JD.com Inc online-to-offline retail delivery service-has grown more than thirty-fold in the past year. The plans involve extending the collaboration to Walmart's 146 stores in nearly 20 Chinese cities from Oct 24. The rapid growth of Walmart's online orders has benefited from visitors routed through JD Dao Jia, which has more than 30 million registered users.
In June, Carrefour opened its first Easy Carrefour store in Wuxi, Jiangsu province. This is the first time the retailer has introduced its smaller format store outside its major base in Shanghai.
It has also launched its own digital wallet, Carrefour Pay, together with China UnionPay to facilitate more mobile payments in stores.
Local retailers continued to outgrow their global counterparts in China during the third quarter this year, the report said. The Sun Art group saw its share value increase by 0.4 percent over the last quarter, driven by growing basket sizes. Yonghui and BuBuGao grew on the back of more new store openings.
Yonghui works with JD.com's platform to deliver its fresh produce and essential grocery items to customers within one hour. The company also introduced its own app, Yonghui Life, in selected cities to increase its direct consumer exposure.