China SOE reform set to accelerate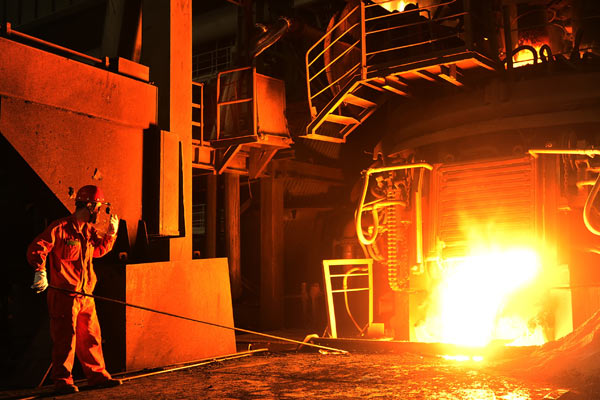 A worker checks molten steel at an iron and steel plant in Dalian, Northeast China's Liaoning province. Central State-owned enterprises saw their total revenues surge 19.2 percent to reach 6 trillion yuan in the first quarter of the year. [Photo by Liu Debin/For China Daily]
BEIJING - China will likely speed up reforms of State-owned enterprises (SOEs) in the coming year, with SOE restructuring high on the agenda of many local governments, according to analysts.
As of Thursday, shares of 32 local SOEs listed on the country's two major exchanges remained suspended as the companies prepared for "major assets restructuring" and other key events.
"An array of new government guidelines and announcements, along with some high-profile pilot cases, suggest that SOE reform will likely accelerate in the coming year," said UBS economist Wang Tao in a research note.
Analysts said the stress on SOE reform by authorities at the just-concluded 19th National Congress of the Communist Party of China reinforced the notion that China was determined to make SOEs leaner and healthier.
Overcapacity, poor corporate governance, and low labor productivity had dragged down profits of China's SOEs, which deteriorated in 2015.
Realizing the significance of SOEs to the country's sustainable growth, China launched a series of reforms including changing share-holding structure, spinning off non-core assets and calling for more innovation.
So far, two groups of SOEs in industries ranging from electrical services to civil aviation are experimenting with a mixed-ownership scheme, which allows private or even foreign investment in particular companies.
Li Jin, deputy head with China Enterprise Reform and Development Society, said more local SOEs would likely be included in the third group of pilot companies, which is expected to be revealed in the next few months.
Some local governments have already rolled out plans to speed up SOE reform. The local government in Shenzhen, for example, recently made plans to identify SOEs in competitive sectors in preparation for ownership diversification.
By 2019, mixed-ownership reform of commercial SOEs in Shenzhen will be basically completed.
The local government in East China's Shandong province recently released guidelines to support securitization of SOE assets. By 2020, it plans to bring at least three SOEs or their core businesses onto the capital market and raise the securitization rate of provincial-level SOEs to more than 60 percent.
Previous efforts to revitalize the SOEs have paid off. The latest data from the Ministry of Finance showed that combined SOE profits rose 24.9 percent year-on-year to 2.2 trillion yuan ($332 billion) in the first three quarters, higher than the 21.7-percent expansion seen in the first eight months.
Local SOEs outperformed central ones, with combined profits up 40.3 percent year-on-year.
"Judged from the perspective of cost cuts, spending discipline and higher returns on equity, and more importantly, how SOE behavior may be changing, one can point to notable progress," Wang said.
She said the improvement of SOE balance sheets in general was good for banks, as more than half of bank credit to the corporate sector was to SOEs.
"Going forward, while large-scale privatization or closure of SOEs is unlikely, there will be more consolidation of SOEs through mergers and acquisitions, disposal of non-core SOE assets, mixed ownership reform and increased employee incentives," Wang said.