OTP Bank opens Beijing office, linking Chinese partners and authorities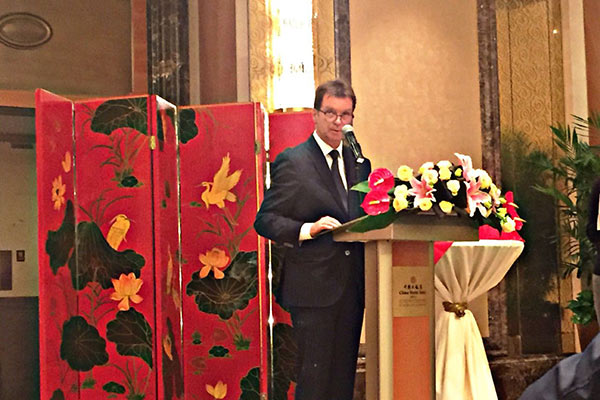 Sándor Pataki, director of investor relations and debt and capital markets department of OTP Bank Plc, delivers a speech at the opening ceremony of the bank's Beijing representative office Oct 24, 2017. [Photo by Tan Xinyu / chinadaily.com.cn]
Hungary's OTP Bank Plc announced Tuesday the bank has opened its first representative office in Beijing, which will act as an information platform between OTP and its Chinese partners and authorities.
The representative office cannot do any business operations, Csaba Prutkay, chief representative of the Beijing office, told China Daily in an email interview.
In the last 12 to 18 months, OTP Bank completed four acquisitions in Hungary, Croatia, Romania and Serbia, said Sándor Pataki, director of investor relations and debt and capital markets department of OTP Bank Plc. Pataki made a statement at the opening ceremony of the representative office Tuesday.
"In the next two years, the bank is planning to spend around $1 billion for acquisitions, both for growth and to create further value for our shareholders."
When responding to any country or region targeted in the company's consolidation plan, Prutkay said the Bank will have acquisitions only in Central and Eastern Europe in the future. As for the Chinese market, he noted, "After two years of the RO [representative office] period, we can decide where to invest."
Founded in 1949, the Budapest-based bank provides financial services along with its subsidiaries, covering eight countries outside Hungary in the CEE region, including Bulgaria, Russia, Ukraine and Croatia. Its range of banking services, from savings to corporate loan accounts and deposits and export-import transactions, meet the needs of nearly 14.5 million corporate and retail clients.
And China Banking Regulatory Commission, the country's top banking regulator, gave the green light to the Beijing office in February.
In the past, Hungary has been the largest exporter to China from the CEE region. Last year alone, Hungary's exports to China increased by 25 percent. And in the first five months this year, growth was up to nearly 38 percent, according to Gábor Székely, commercial counselor for the Hungarian Embassy in China.
As Hungary started to build trade relations with Eastern countries while keeping the benefits of a European market, its "eastern opening" strategy complemented well with China's Belt and Road Initiative, Székely said while attending the ceremony.
The China-proposed initiative comprises the Silk Road Economic Belt and the 21st Century Maritime Silk Road, which aims to build trade and infrastructure networks connecting Asia with Europe and Africa on and beyond the ancient Silk Road routes.
In July, Hungary issued state bonds in China in the amount of 1 billion yuan ($151 million), with a three-year maturity, becoming the first country outside China ever to issue renminbi-denominated bonds onshore as well as offshore, since Hungary raised 1 billion yuan in a dim sum bond last year.