China's home prices continue to stabilize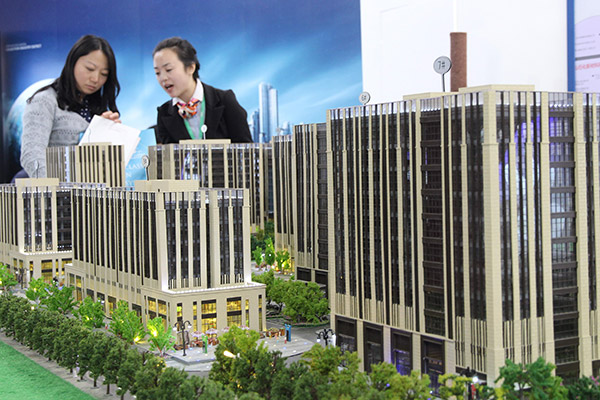 Visitors look at a model of a housing project at a real property exhibition in Beijing. [Photo provided to China Daily]
BEIJING - China's property market continued to cool as home prices faltered or posted slower growth in major cities amid tough policies to curb speculation, official data showed Monday.
On a yearly basis, new residential housing price saw slower growth in 15 major cities in September compared with the same month last year, the National Bureau of Statistics (NBS) said.
On a month-on-month basis, new residential housing prices fell or remained flat in those cities.
Of 70 cities surveyed, home prices in 44 cities rose month-on-month, compared with 46 in August.
The cooling showed that housing control policies in different cities continued to take effect, according to NBS statistician Liu Jianwei.
Chinese authorities have stepped up efforts to rein in housing speculation since late last year via measures including purchase restrictions and minimum downpayments hikes to contain asset bubbles.
For the 12th consecutive month, both new and second-hand home prices in first-tier cities slowed growth from a year earlier.
In Beijing, Shanghai, and Guangzhou, new residential housing prices declined from a month earlier in September, while those in Shenzhen remained unchanged.
New home prices in second-tier cities climbed 0.2 percent month-on-month, on par with growth in August while in smaller third-tier cities, new and second-hand home prices went up 0.2 and 0.3 percent, respectively, lower than growth last month.
The property market was also cooled by relatively tightened liquidity conditions as the government moved to contain leverage and risk in the financial system.
Earlier data from the People's Bank of China showed that loans to China's real estate sector continued to grow at a slower pace, with outstanding loans up 22.8 percent year-on-year to 31.1 trillion yuan ($4.7 trillion) by the end of September, 1.4 percentage points lower than the rate seen at the end of June.
Despite the cooling measures, China's economy expanded a robust 6.9 percent year-on-year in the first three quarters, well above the government target of 6.5 percent for the year.
The Chinese authorities have constantly reiterated that "houses are built to be inhabited, not for speculation," and analysts expect housing controls to last for the rest of the year at least.
At a press conference on the sidelines of the ongoing 19th National Congress of the Communist Party of China, Wang Menghui, the minister of Housing and Urban-Rural Development, said the property market would see slower growth in transaction volume, and stabilizing prices in the fourth quarter.
Authorities are studying a "long-term mechanism" for real estate regulation and advancing legislative work on the development of the home rental market, Wang said.
He pledged to move faster to implement a housing system that ensures supply through multiple sources, provides housing support through multiple channels, and encourages both housing purchase and renting.