Confidence shows rapid pace of economic reform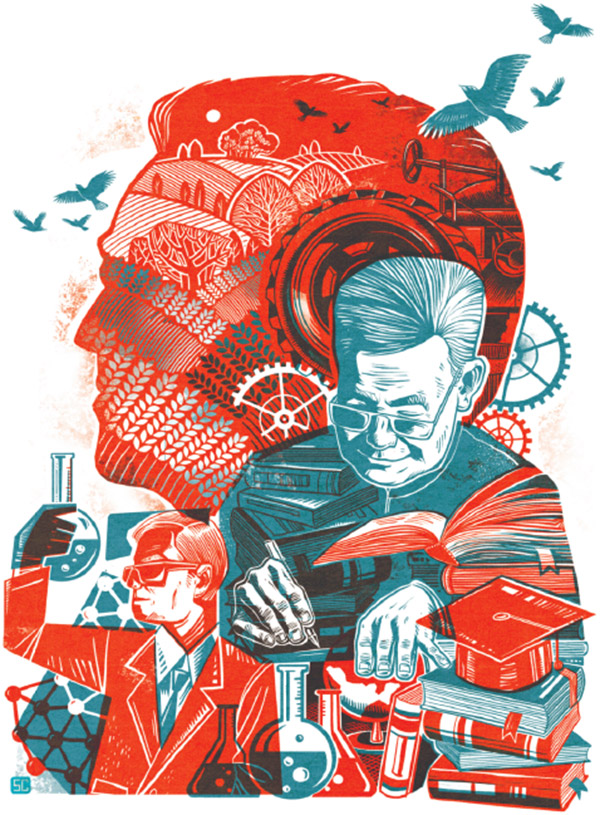 [Photo/China Daily by Song Chen]
Development is creating opportunities for young people
Editor's Note: The Communist Party of China is holding its 19th National Congress in Beijing. China Daily asked two prominent experts for their views on developments in China and the country's global leadership.
Having stayed in close contact with China and its people for four decades, John Holden, associate dean of Peking University's Yenching Academy, is amazed by how Chinese people have changed during the past 40 years.
Now responsible for recruitment of international students and university partnerships at the academy-established in 2014 to offer fellowships in China studies to elite international and Chinese master's students-Holden said later generations could not imagine what China was like when he first came in 1974.
John Holden, associate dean of Peking University's Yenching Academy. [Photo provided to China Daily]
It was during the later stages of the "cultural revolution" (1966-76) when Holden paid his first visit to the Chinese mainland.
He was an undergraduate studying Chinese language and literature at the University of Minnesota in the United States at the time.
He said it was a tough and terrible time for China, and people were not happy.
"They were afraid to talk to their families about things they cared about," he said.
Things had changed greatly by the time he returned in 1980, not long after the reform and opening-up policy was implemented. By then, Holden had finished all his PhD requirements at Stanford University except for his dissertation.
"There was a fresh wind of openness and people were reaching out," he recalled of his return to China. "People were talking to each other, talking to foreigners, striking up friendships and finding opportunities."
As the country opened up, so too did the minds of the Chinese people. Everything was developing, young people had so many opportunities, and people were having fun and smiling, he said.
What now impresses Holden, who also serves as a professor of management practice at Peking University's Guanghua School of Management, is the high level of confidence about the next five years.
In his eyes, China has experienced a transition period-both politically and economically-since the 18th National Congress of the Communist Party of China in November 2012.
In the past five years, the Chinese economy has maintained strong growth, as planned, and has been moving to a different growth model. The CPC has been working to combat corruption through an anti-graft campaign.
"So people are expecting that the next five years will be successful and that, for example, the economic reforms will progress quickly," he said.
Having experience of doing business with China and as a former president of the National Committee on US-China Relations, a nonprofit organization dedicated to facilitating understanding and cooperation between the two countries, Holden sees China as being woven deeply into the fabric of almost every issue across the globe.
"There is nowhere China is not present, and that's good because China has a lot to offer, whether it's peacekeeping, education, trade and investment, disease control or climate change," he said.
He said there are so many ways that China can make a contribution to global progress and that the world wants China to play a bigger and more important role.
For the next five years, Holden anticipates there will be continued evolution in China's economy and that the country will continue its efforts to clean up the environment.
He also said he believes China will gain more experience internationally and in dealing with corporations overseas, such as in Africa, where China has a big role.
"Some of the investments there have not been sufficiently sensitive to local conditions, but people are aware of that and they are trying to improve things and to get feedback," he said, adding that the country is learning how to run companies abroad, how to go into other countries and make intelligent investments.
"So I expect the (overseas Chinarun) companies will continue to get better and learn to hire local people and work with them as team members," he said.
Holden admitted that it had been a sharp learning curve.
"When I first started doing business here, how many people knew what a letter of credit was? What an international trade contract was or force majeure? Nobody knew these things. So I think there is much more capacity in China," he said.
Q&A
What have been the major developments in China in the past five years?
We've seen continued investment and improvement in science and technology, business innovation and the internationalization of education, which I know a little bit about because I'm here at Peking University's the Yenching Academy, a new program that is part of this broader policy. This is important for China's opening up and integration in the world.
What has been your personal experience with this development?
I joined the Yenching Academy three and a half years ago. When I was first introduced to this project, I thought it sounded amazing. After coming here and working with the Peking University administration and with my colleagues at the academy, I've been so impressed by how open and flexible they are in designing a program that makes sense for people from around the world and for Chinese students to integrate, to get to know each other, to develop long-lasting friendships and to learn about this fascinating country and civilization.
What's the biggest challenge China faces, and how can it overcome it?
China is a big country and has created a comfortable standard of living for people in big cities. But there are still many people in the country who are not doing so well and don't have the educational opportunities that others have. So it's a big challenge for China to continue to develop the rural areas and build up its second- and third-tier cities, so that people there can have the same quality of life as those in Beijing, Shanghai and other big cities.
Do you believe that some of China's experiences or practices could be used to solve pressing global problems?
Yes and no. China is following its own path, and while some things make sense for China, every country is different. However, it has been so successful in so many areas that any developing country would want to look at China's experiences. There are also things about China that the US is studying, too.
What is your impression of President Xi Jinping?
I've never met Xi, but I hear from friends and diplomats who have met him that he's an impressive man. So I hope to get the opportunity to meet him some day.