Haier focuses on interconnected factories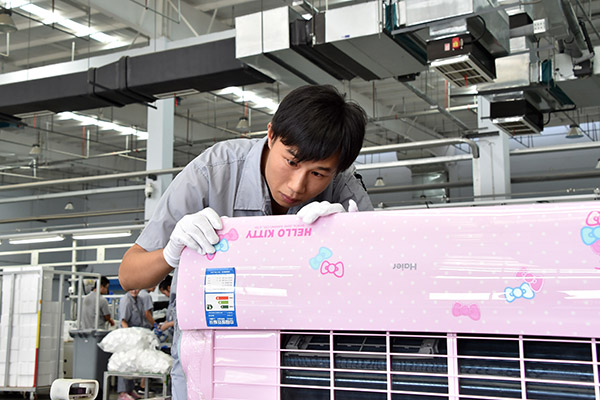 A worker inspects an air conditioner at the production line of Haier Group in Qingdao, Shandong province. [Photo/Xinhua]
Chinese home appliance giant Haier Group will have 10 interconnected factories in the US, Europe and Asia-Pacific markets by the middle of next year, said a top executive.
The move is part of the group's long-term commitment to transform from a traditional manufacturer into a nimble and intelligent producer in the internet age.
Haier's interconnected factory focuses on developing a flexible mass customization process by using intelligent technologies, "with core competency of user-orientation and fulfillment of user lifetime value", said Chen Lucheng, vice-president of Haier.
"The strategy targeting foreign markets aims to further meet the demand of local users, since sales in the United States, Europe and Asia-Pacific account for a larger proportion of the group sales."
Asked whether the plan would meet with an obstacle from the US administration, Chen said the viable way is to transform and upgrade its GE Appliances factory. The business was acquired from US-based General Electric for $5.6 billion in early 2016.
"We are not going to build new plants there … So that is feasible," Chen said.
Haier's plan to promote its interconnected factories overseas may vary, depending on what it has done in the destination country.
For example, in the Asia Pacific region, where most of the factories were built by Haier, the company is going to launch the overhaul directly, according to Chen.
So far, 15 out of its 54 overseas factories were self-built, and the rest were either merged or acquired, the group said. "By 2019, 20 interconnected plants would be launched overseas."
For the past several years, Haier has been putting efforts to speed up product development by applying intelligent manufacturing solutions while optimizing the production process based on the analysis of massive and diversified user demand.
Intelligent manufacturing does not mean replacing workers with machines. It is more than setting up automatic equipment and building unmanned factories, said Zhang Ruimin, chairman of Haier.
It means working out a management model that could integrate users' varied needs, he said.
Qingdao Haier Co Ltd, the group's listed unit, reported 4.4 billion yuan ($673 million) of net profit in the first half of 2017, with a year-on-year growth of 33.5 percent.
Jin Xing, an analyst at CITIC Securities Co Ltd, said Haier is likely to report significant earnings growth in the third quarter this year. Its overall net profit in 2017 is expected to increase more than 30 percent year-on-year.