Belt and Road cooperation report released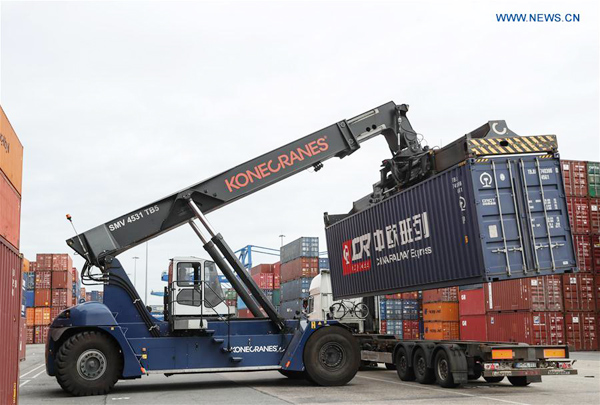 Photo taken on April 11, 2017 shows a cargo of China Railway Express being moved at Duisburg Intermodal Terminal (DIT) in Duisburg, western Germany. Since "YUXIN'OU" (Chongqing-Xinjiang-Europe) railway line came into use in 2011, China-Europe freight train services, with a growing number of trans-continental railway lines and increasing cargo volume, have become important to the ancient Silk Road. [Photo/Xinhua]
Russia and Pakistan rank first and second on a list of 64 countries and regions in terms of cooperation with China under the Belt and Road Initiative, according to a report released on Thursday by the State Information Center.
Based on more than 500 billion pieces of information collected by major statistical organizations and internet channels, the Belt and Road Initiative Big Data Report 2017 analyzed five aspects of cooperation between China and the 64 countries and regions - policy communication, connectivity, trade, finance and public support - and used eight indicators to evaluate the cooperation level.
The deepening of international trade cooperation between China and economies along the BRI continues to improve and the potential for future trade growth is huge, said Yu Shiyang, the development department director of the State Information Center.
Domestically, Guangdong, Fujian, Shanghai, Zhejiang and Shandong are the top five provinces and municipalities regarded as "highly participating" in the initiative among 31 nationwide, according to the report.
The participation degree in western regions will soon intensify, as those regions have high potential, the report said.