Samsung Electronics posts record profit in Q3 on demand for chips, smartphones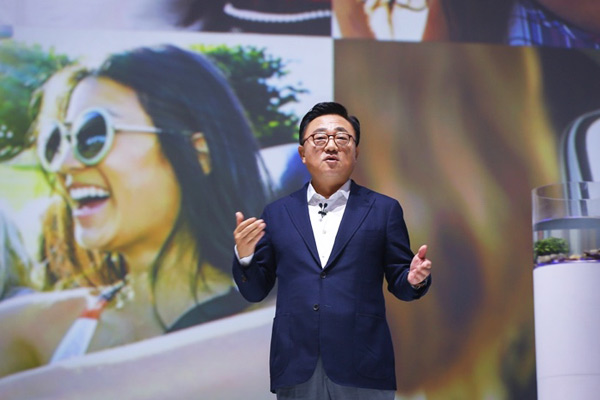 D.J. Koh, president of mobile communications at Samsung, delivers a speech at the Galaxy Note 8 launch event in Beijing on Sept 13, 2017. [Photo provided to chinadaily.com.cn]
SEOUL - Samsung Electronics, South Korea's tech behemoth, posted the biggest operating profit in the company's history in the third quarter thanks to solid demand for semiconductors and new smartphones, a regulatory filing showed Friday.
Preliminary figure for operating profit was 14.5 trillion ($12.8 billion) in the July-September quarter, nearly tripling 5.2 trillion won tallied in the same quarter of last year.
The third-quarter figure surpassed the previous record high of 14.07 trillion won tallied in the previous quarter.
It was an earnings surprise as the preliminary figure topped market expectations of 14.4 trillion won on average.
Revenue advanced 29.7 percent over the year to 62 trillion won in the third quarter.
Net income and detailed earnings of each business would be announced later this month after an external auditing and the approval from the board of directors.
The ratio of operating profit to revenue reached 23.4 percent in the third quarter, marking the highest profitability in Samsung's history. It was up 12.4 percentage points from a year earlier.
Samsung's record earnings were mainly attributable to an outperformance of its memory chip business in the global market.
Market watchers estimated Samsung's chip-making unit to have logged about 10 trillion won in operating profit in the September quarter. It was around two thirds of the company's total.
The display panel division was believed to have had a weaker profit in the quarter amid lower LCD panel prices and a soft profitability in the OLED panel sector.
The mobile phone business, however, was estimated to have recorded a surge in operating profit thanks to strong demand for its new flagship smartphone Galaxy Note 8, which made a market debut in mid-September.
Its predecessor Galaxy Note 7 was permanently discontinued last October on battery faults that caused overheating and even explosion.
The discontinuation hit hard the earnings of Samsung's mobile phone business and its reputation, but the successful launch of the Galaxy Note 8 helped Samsung restore a part of its past reputation.
Preorders for Galaxy Note 8 in South Korea was 850,000, more than doubling 400,000 preorders for its predecessor Galaxy Note 7.
Operating profit of Samsung's mobile phone unit tumbled to 100 billion won in the third quarter of last year, before rising to 2.07 trillion won in the first quarter of this year and 4.06 trillion won in the second quarter.
The third-quarter profit of the mobile unit was estimated at anywhere between 3 trillion won and 3.5 trillion won.
Outlook for Samsung's fourth-quarter profit was even brighter. Some of local experts predicted over 17 trillion won of operating profit on revenue of more than 70 trillion won in the October-December quarter.
Meanwhile, Samsung said in a separate statement that Samsung's Vice Chairman Kwon Oh-hyun planned to resign as the company's head of the Device Solutions Business, which produces semiconductors.
Kwon decided not to seek re-election as a member of the board of the directors and the board chairman when his term ends in March 2018. He would also resign as the chief executive of Samsung Display.
"As we are confronted with unprecedented crisis inside out, I believe that time has now come for the company to start anew, with a new spirit and young leadership to better respond to challenges arising from the rapidly changing IT industry," said Kwon.
He has served as the de-facto chief of Samsung Electronics as Vice Chairman Lee Jae-yong was taken into custody and stood trial on bribery charges involving impeached President Park Geun-hye.
Chairman Lee Kun-hee has been hospitalized since May 2014 for heart attack.