US urged to scrap 'non-market' status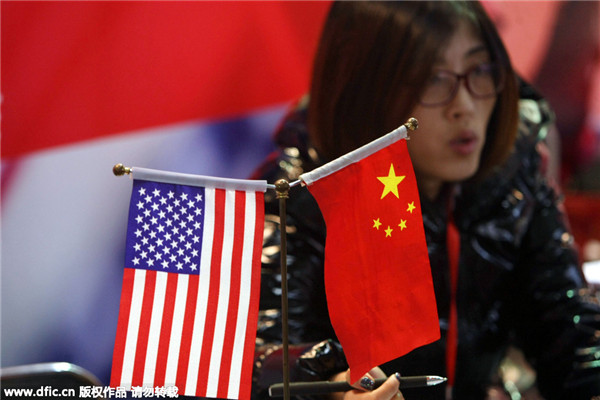 File photo shows the national flags of China and US. [Photo/IC]
Ministry calls on Washington to adopt level playing field in trade with China
The Ministry of Commerce on Thursday urged the United States to scrap its "non-market economy status" treatment of trade with China, and treat the country's goods shipment fairly, as such a measure is outdated and does not exist in World Trade Organization rules, the Ministry of Commerce said on Thursday.
The ministry's comments came after the US Commerce Department announced last week that it would postpone issuing its preliminary determination in an anti-dumping duty probe into imports of aluminum foil from China, as it needs more time to analyze "China's non-market economy status".
Commerce Ministry Spokesman Gao Feng said the so called "non-market economy status" was used in domestic law by certain countries during the Cold War period, and today only a few economies of the 164 WTO members still practice this.
Under this status, trading partners can use a surrogate country whose economic situation is similar to China's as a reference when determining whether they think China is dumping in their countries.
"It is clearly not included in the WTO's multilateral trading rules," Gao said at a regular media briefing in Beijing.
According to Article 15 of the WTO's rules, member economies should have ceased from using the surrogate country approach in anti-dumping investigations on China on Dec 11, 2016, the 15th anniversary of the nation's accession to the global trade body.
A total of 30 US states saw their exports to China double over the past decade, while four states witnessed fivefold growth in the shipping of goods such as agricultural products, automobiles and passenger aircraft to China, according to data published on Wednesday by the Ministry of Commerce.
Besides, 29 US states gained more than $1 billion trade volume by doing business with China in 2016, compared with 17 states in 2006.
Apart from simultaneously launching anti-dumping and anti-subsidy investigations against Chinese manufacturers on a regular basis since 2006, the US government has more than once used "market economy status" as a bargaining chip in exchange for China's concessions in trade negotiations.
Gao also remarked that the European Union's newly reached consensus against China's imports lacks the legal basis of WTO rules and will have a negative impact on the WTO's anti-dumping legal system as it doesn't have dumping-related articles on labor and the environment.
The European Union last week adopted a similar approach, known as "significant market distortion", as an excuse for anti-dumping and anti-subsidy measures, blurring the disparities between market and non-market economies.
"Under normal circumstances, dumping indicates the selling of products below domestic prices, but the EU will make exceptions in cases of 'significant market distortion', allowing investigators to compare export prices with international benchmarks, this certainly will affect imports of Chinese products," said Li Guanghui, vice-president of the Chinese Academy of International Trade and Economic Cooperation in Beijing.