Foundations laid for deposit-free apartment rental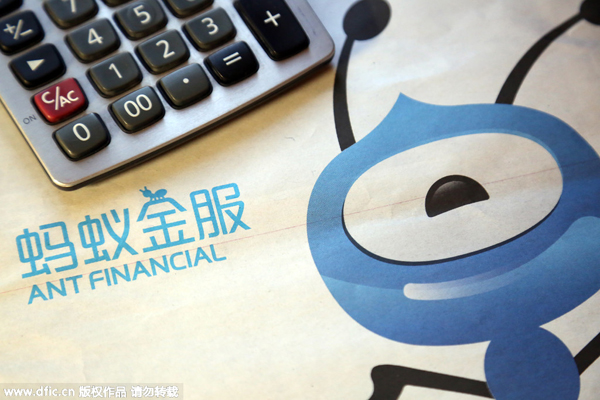 An advertisement for Ant Financial Services, an affiliate of Chinese e-commerce giant Alibaba Group, is pictured in Shanghai, October 16, 2014. [Photo/IC]
China is piloting deposit-free apartment rental in eight cities, employing algorithms that track and rate people's credit worthiness to protect both tenants and landlords.
The move is among several programs in the country's drive to develop a nationwide social credit system that Beijing expects to roll out by 2020, experts said.
Over 1 million apartments for rent in China are linked with Alipay, the nation's top third-party financial platform, through which qualified consumers in Beijing, Shanghai, Shenzhen and five other cities can search for and secure verified apartments without paying a deposit.
The exemption of a down payment, which is normally equivalent to three months' rent, would relieve the financial burden of apartment hunters, said Wang Bo, general manager of the innovation and smart service of Ant Financial, which owns Alipay.
The deposit waiver threshold is set at 650 in Sesame Score, an indigenous credit-rating system developed by Ant Financial.
Even for those not eligible for such entitlements, the service can help them avoid rental scams and refrain from sudden rate hikes, thanks to Alipay's real-name registration rules and credit checks using big data, he noted.
More than 200 apartment leasing firms are in talks to be connected to the platform, according to the company.
"Currently, landlords could arbitrarily terminate rental contracts citing almost any plausible excuse, which breaches tenants' legal rights," said Quan Li, founder of apartment-leasing service Fangdongdong. "Mobilizing technology to gauge people's credibility tackles that problem."
In a similar vein, credible landlords can enjoy perks such as being advertised to prospective tenants based on their location and level of consumption, among other factors, said Lin Xuetao, an Ant Financial director overseeing rental services.
Ant Financial is among a handful of companies that carry out social credit rating in the private sector. Higher credit ratings usually confer privileges such as more convenient borrowing at local libraries, waived deposits at some hotels and expedited airport security checks.
China has attached great importance to the development of the rental market as an alternative route to more affordable urban housing.
Giving tenants and homeowners equal access rights to public services such as education would in principle allow apartment rental to become a perfect substitute for home ownership, Quan noted.
"The idea of building trust is a common thread that runs through various government directives," said Ping Anwen, vice-president of China Hospitality Association, a Beijing-based trade group. "It will be a huge boon to the rental market if credibility is factored in by adopting financial technologies."