IMF projects global economy to grow at 3.6% this year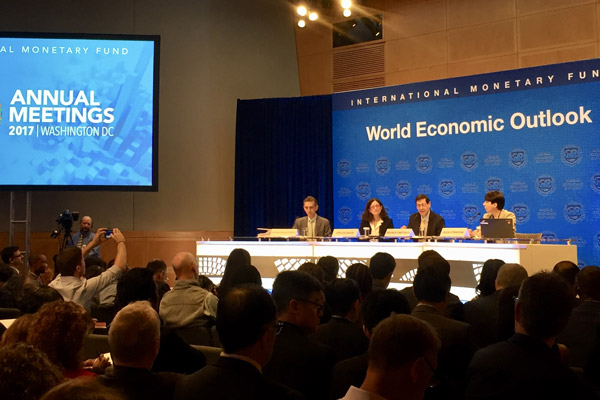 IMF projects global economy to grow at 3.6 percent this year. [Dong Leshuo/China Daily]
Global growth, which in 2016 was the weakest since the global financial crisis at 3.2 percent, is projected to rise to 3.6 percent in 2017 and to 3.7 percent in 2018--0.1 percentage point higher in both years than in the April and July forecasts, according to the latest International Monetary Fund report.
"The global recovery is continuing, and at a faster pace," Maurice Obstfeld, IMF economic counsellor and director of research, said at a press conference on the release of the October World Economic Outlook on Tuesday in Washington.
"The picture is very different from early last year, when the world economy faced faltering growth and financial market turbulence," Obstfeld said. "We see an accelerating cyclical upswing boosting Europe, China, Japan, and the United States, as well as emerging Asia."
The latest World Economic Outlook has therefore upgraded its global growth projections to 3.6 percent for this year and 3.7 percent for next—in both cases 0.1 percentage point above our previous forecasts, and well above 2016's global growth rate of 3.2 percent, which was the lowest since the global financial crisis, he said.