Small, micro businesses get a boost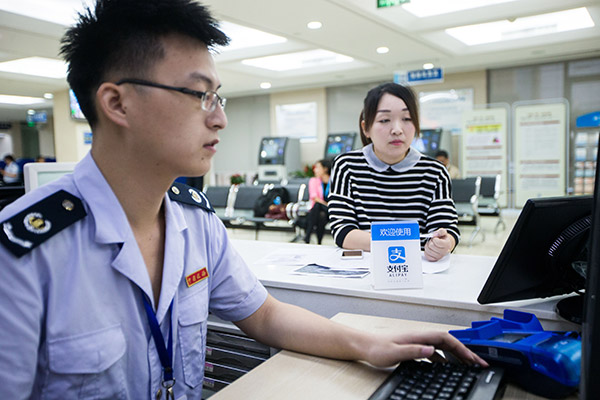 A public servant deals with a tax bill paid through Alipay in Xihu branch of the taxation bureau in Hangzhou, Zhejiang province. [Photo/China Daily]
State Council will encourage banks to make loans available
China will further bolster its small and micro businesses with financial measures to increase economic vitality, the State Council executive meeting, chaired by Premier Li Keqiang, decided on Wednesday.
In order to boost policy support and encourage financial institutions to step up financial services, the credit ceiling of the value added tax exemption for interest derived from bank loans to small and micro businesses, farmers and self-employed will be expanded from 100,000 yuan to 1 million yuan ($15,075 to $150,750) between Dec 1, 2017, and Dec 31, 2019.
The stamp tax exemption for borrowing contracts of small and micro businesses and the VAT exemption for those with a monthly sales volume of less than 30,000 yuan will be extended through 2020.
More efforts will be made to put inclusive finance service offices of State-owned banks in place at the grassroots level. Commercial banks will enjoy a cut in the required reserve ratio if their total or percentage of increase reaches a certain standard for individual loans of less than 5 million yuan to small and micro businesses, farmers, people under the poverty line, students and guaranteed loans for startups.
"Small and micro businesses have been a strong pillar for employment, offering strong support for large and medium-sized enterprises, and increased vitality for the society," Li said. "We should encourage financial institutions to lower their footing and strengthen capacities to serve the real economy."
He added, "Financial resources should flow more to the real economy, especially to agriculture and small and micro businesses, to ease their credit crunch and high financing cost."
Such businesses have played a pivotal role in creating new jobs, as each small and micro enterprise can help create eight new jobs and each self-employed business creates 2.8 jobs on average, according to the National Bureau of Statistics.
The State Council, China's Cabinet, also decided at the executive meeting that the government will make greater efforts to develop governmental financing guarantee and re-guarantee institutions, with a national financing guarantee fund also in the pipeline. Venture capital funds will be encouraged to devote more investment to small businesses in their early periods.
"The development of inclusive finance should be a priority so small and micro businesses and other weaker links can receive consistent support. The financing of small and micro businesses is a global challenge. But it is of major importance, and should be highly prioritized," Li said.
"We managed to make some progress over the years, reaching targets in the growth rate of bank lending to small and micro businesses no lower than lending across the board, the number of individual loans and the rate for loan approval no lower than the same period last year. Such measures have increased SME chance of survival," he said.
Policies for small and micro businesses should cover self-employed businesses and farmers as well to increase policy effectiveness, he added.