ADB lifts China's economic growth forecast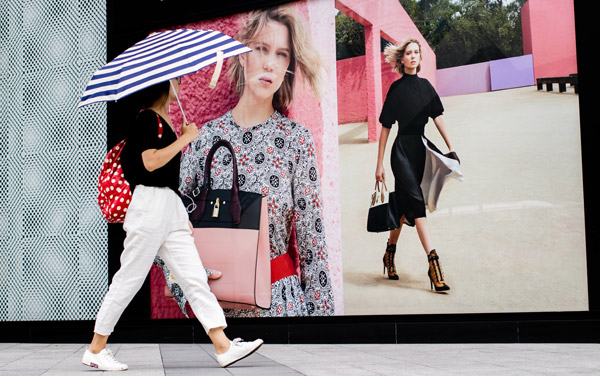 A woman walks past a Louis Vuitton advertisement in Fuzhou, capital of East China's Fujian province. [Photo by Chen Hao/For China Daily]
The forecast of China's economic growth for 2017 and 2018 has been lifted by 0.2 percentage point, due to strong service sector, fiscal expansion and export recovery, according to a report by the Asian Development Bank (ADB).
China's economy is expected to expand by 6.7 percent in 2017, up from a previous projection of 6.5 percent in April by the bank, and growth in 2018 is projected to reach 6.4 percent compared to 6.2 percent in the bank's previous forecast.
In the first half of this year, China's economy grew at a faster-than-expected rate of 6.9 percent, due to expansionary fiscal policy and unanticipated external demand, the bank said in its updated flagship annual economic publication, Asian Development Outlook 2017.
Better-than-expected performance of Chinese economy will raise the economic development outlook of the entire Asia, and provide opportunities for developing economies in the region, according to the report.
"Growth prospects for developing Asia are looking up, bolstered by a revival in world trade and strong momentum in the PRC (People's Republic of China), " said Yasuyuki Sawada, chief economist of ADB.
The gross domestic product (GDP) of developing economies in Asia is expected to grow 5.9 percent in 2017, up from 5.7 percent in ADB's previous projection. The increase rate for 2018 is forecast to be 5.8 percent, up from 5.7 percent, according to the report.
Meanwhile, ADB also raised economic growth forecast of world's major industrial economies such as the United States, Japan and countries in euro area to reach 2 percent in 2017 and 2018, up by 0.1 percentage point from the forecast in April.
ADB pointed out that the outlook of Asian developing economies' development maintains optimistic, although risks of sudden change in US monetary policy, economic disruption from a geopolitical event, or a weather-related disaster remain.
ADB raised its forecast on China's economic development outlook right after S&P Global Ratings downgraded China's sovereign credit rating by one notch to AA- earlier this month.