ADB keeps China growth forecast unchanged at 6.7% for 2017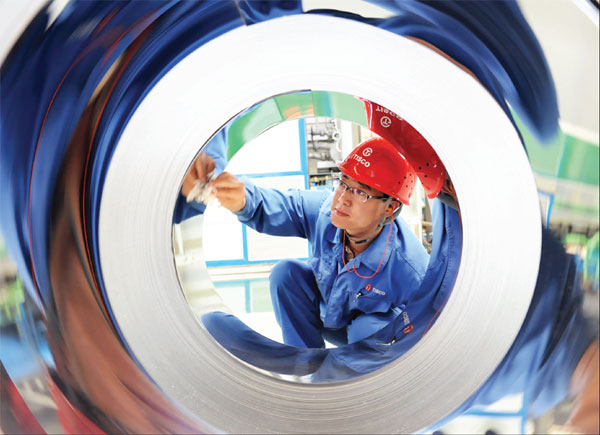 A technician inspects the surface of a stainless steel component at a factory of Shanxi-based Taiyuan Iron and Steel (Group) Co, which is staking its future on research and development efforts. [Photo provided to China Daily]
BEIJING — The Asian Development Bank (ADB) on Tuesday projected China's growth to be 6.7 percent for this year and 6.4 percent for 2018, both unchanged from its July estimates.
In an update of the Asian Development Outlook (ADO) 2017, its flagship annual economic publication, ADB said better-than-expected external demand, proactive fiscal policy and strong domestic consumption have combined to drive up China's growth.
"The Chinese economy remains resilient, solidifying its role as an engine of global growth," said Yasuyuki Sawada, ADB Chief Economist, in a statement released after the update.
Noting China's supply-side reform is moving forward, Sawada said eventual success hinges on a careful balancing of the role of the market and the state, particularly as the country continues its transition to a more market- and services-driven economy.
China's economy expanded 6.9 percent for the first half of 2017, with consumption and services, together with new innovation-driven economic sectors, playing larger roles in the economy.
For the rest of 2017, the ADB predicted that consumption will remain the main growth driver of the economy as incomes rise and consumer confidence strengthens.
Net exports, which have contributed to China's growth so far, would not continue to contribute in 2018, when imports are again expected to exceed exports. Investment, meanwhile, will continue its downward trend due to structural and cyclical factors, including an uncertain business outlook for export-oriented industries and remaining industrial excess capacity, according to the update.
The ADB also expects China's ongoing monetary and financial policies to remain unchanged, adding government commitment to exchange rate liberalization may result in further widening of the trading band for the renminbi.
On the risk side, the report noted that further regulatory tightening may cause liquidity shortages and put pressure on weaker financial institutions.
Other downside risks include impacts of global trade protectionism and renewed large capital outflows triggered by US interest rate increases and resulting dollar strength.
The optimism on China's economy followed S&P Global Ratings' downgrade of China's sovereign credit rating last week.
S&P said last Thursday that it had lowered China's long-term sovereign credit rating to A+ from AA-, because a "prolonged period of strong credit growth has increased its economic and financial risks."
In a refutation, China's Ministry of Finance (MOF) described the decision as "perplexing" and wrong. The MOF said the decision ignored China's distinctive financing structure, the wealth-creating effect of government spending and its support for growth, as well as the country's sound economic fundamentals and development potential.