A-share IPO proceeds to hit $35b in 2017: KPMG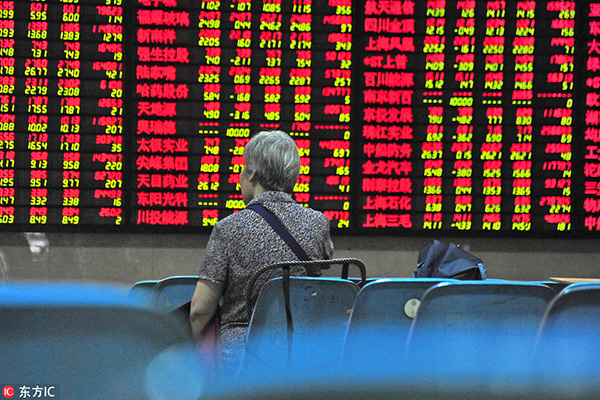 An investor watches an electronic board showing stock information at a brokerage office in Nanjing, Jiangsu province, Sept 25, 2017. [Photo/IC]
IPO proceeds of A-share market are expected to reach up to 230 billion yuan ($34.75 billion) in 2017, the financial magazine Caixin reported on Monday citing a report released by KPMG.
In the first three quarters of 2017, 346 companies floated their shares on the A-share market, raising 172.9 billion yuan, which doubled the amount over the same period of last year, also surpassing the total fundraising for 2016 full year.
Among them, the industry market and technology, media, telecom (TMT) sectors accounted for over half of total IPO and fundraising, according to KPMG's report.
In the wake of high demand for IPO and regulators promoting IPO normalization, KPMG predicted that in the fourth quarter, the IPO approval rate in the A-share market will remain the same level of the third quarter.
In 2017, the number of A-share listings is expected to reach 440, with total fundraising of 230 billion yuan, KPMG said.
In addition, there were a total of 106 IPOs in Hong Kong in the first three quarters of 2017, an increase of 56 percent from the 68 deals recorded over the same period in 2016, while total proceeds were HK$85 billion, 37 percent lower than the year-on-year total.
Hong Kong IPO activity is expected to accelerate in the fourth quarter, KPMG said, adding that IPO proceeds of Hong Kong are expected to reach up to HK$150 billion in 2017.
Xinhua contributed to this story.