Fed move signals turning point for liquidity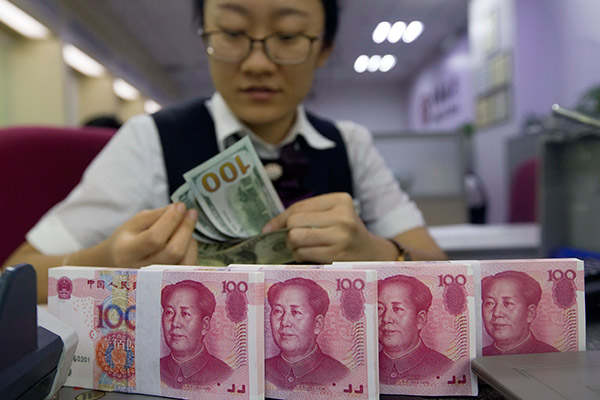 A clerk counts money at a bank in Taiyuan, North China's Shanxi province. [Photo/China News Service]
The US Federal Reserve's plan to wind down quantitative easing from next month will sign a turning point of the global liquidity environment, which will have a long-term impact on major economies' interest rates and asset prices, analysts said after the US central bank's statement.
The Fed on Wednesday decided to reduce its holdings of treasury and agency securities starting from October, following the steps described in June in the so-called balance sheet normalization program.
The Federal Open Market Committee (FOMC) also announced it would maintain the target range for the federal funds rate at 1 to 1.25 percent, with an unchanged "accommodative" monetary policy stance, meeting market expectations.
Fed Chairwoman Janet Yellen said at a news conference that a further interest rate rise could be possible this year, which is expected by the market to be in December.
"It is a historical end of the worldwide popular quantitative easing policy after the global financial crisis, and other major central banks are expected to make moves in a similar direction," said Wu Jieyun, a researcher at China International Capital Corporation Ltd.
But the short-term influence on China's monetary policy or the currency's exchange rate is quite limited, as the whole process of balance sheet normalization will just follow the planned pace, said Wu.
The Fed maintained its expectation that economic conditions will "evolve in a manner that will warrant gradual increases in the federal funds rate", while highlighting that it is "monitoring inflation developments closely".
The dollar index, which indicates the US dollar exchange rate against a basket of other major currencies, increased by 0.7 percent after the FOMC statement.
The renminbi weakened 0.3 percent against the US dollar as the daily trading reference reached 6.5867 on Thursday and it closed at a spot rate of 6.5934. The currency has depreciated by 1.34 percent from the 16-month high on Sept 11. It strengthened 2.6 percent against the dollar in two weeks of late August and early September.
China's foreign exchange reserves rose for the seventh straight month in August to $3.09 trillion after having slipped below the $3 trillion level in January.
"While sentiment on the renminbi and China's foreign exchange reserves has improved markedly, net financial capital outflows remain sizeable, exceeding what we consider 'sustainable' capital outflows," said Louis Kuijs, head of Asia Economics of Oxford Economics.
Kuijs expected a material relaxation of the policy stance on outflows might be unlikely in the short term, while the foreign exchange reserves may remain broadly constant over the coming six to nine months.
"But the US dollar remains the wildcard. If and when the greenback strengthens again, the renminbi will come under renewed pressure, reigniting capital outflows. Then we cannot rule out a further clampdown on outflows, in order to safeguard foreign exchange reserves," he said.