Shanghai forum highlights city's goals for growth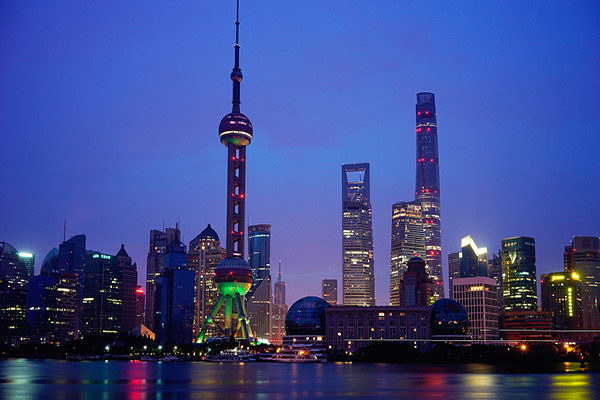 Night view of Lujiazui Financial and Trade Zone of Pudong in Shanghai, July 8, 2017. [Photo/VCG]
Shanghai needs and desires high quality international workers "more than ever" as it works to become a global city of excellence, Shanghai Mayor Ying Yong said in a forum discussing the city's master plan for the next two decades.
Ying's comment came during the 29th International Business Leaders' Advisory Council for the Mayor of Shanghai on Sunday.
The city will continue to pursue its 2040 goals in accordance with the State deployment by enhancing its attractiveness, creativity and competitiveness.
The council was initiated by Zhu Rongji, who was Shanghai mayor in 1989. It is an annual forum for global business leaders, providing strategic advice on the city's development and growth. The membership has expanded from 12 representing seven countries to nearly 50 from 16 nations.
According to Ying, the city's comprehensive service capabilities are the foundation and key to be a global city. Shanghai will continue to become a higher level international hub for finance, shipping and trade. The city also stresses innovation and aims to become a technological innovation center with global influence.
"By 2040, Shanghai's container capacity will reach 45 million TEUs, or 20-foot equivalent units, and the airports will handle more than 180 million passenger trips with more than 40 percent being international passengers," Ying said.
To achieve these targets, Shanghai will launch sector-specific policies for attracting and retaining talent in the near future, said Ying.
Shanghai will proactively serve the needs of and participate in the Belt and Road Initiative. It also will cooperate with cities and markets involved in the initiative in the fields of economics and trade, financial services, infrastructure construction and cultural communication, the mayor said.
Shanghai can play a role in not only regional development but also global economic growth, business leaders said.
"The Belt and Road Initiative affords a natural path for Shanghai to play a significant role promoting international use of renminbi as a currency of trade," said Bob Moritz, global chairman of PwC International Ltd, who was at the forum.
Success will be more likely when beginning with developing economies that are involved in the Belt and Road Initiative before engaging with developed countries that already have established systems, Moritz said.
Mark Tucker, group chairman designate of HSBC Holdings Plc, said there is an excellent opportunity for Shanghai to become a center for expertise in the new models of finance and investment that are required.
For example, it can bring together the public and private sectors with multilateral development banks and others to provide long-term funding on a suitably massive scale.
"Shanghai has an impressive record as a center for international trade, commerce and investment and this foundation can be used to build a hub of expertise and finance of fast-growing companies and sustainable infrastructure and to reinforce the city's position as one of the world's important financial centers," he said.