China's industrial output up 6% in August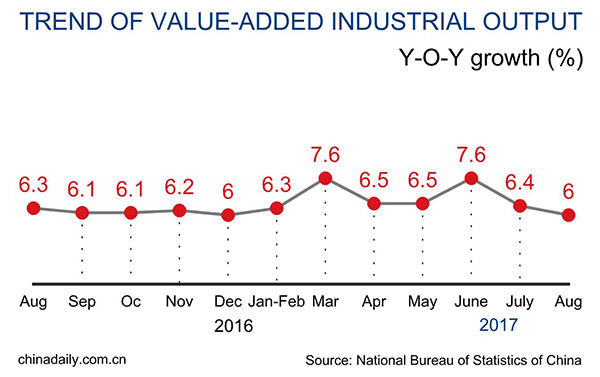 BEIJING - China's value-added industrial output grew 6 percent year on year in August, compared with a 6.4 percent increase in July, the National Bureau of Statistics said Thursday.
On a monthly basis, industrial production edged up 0.46 percent in August compared to July.
The industrial output of state-holding enterprises rose 7.8 percent, while share-holding enterprises declined 2.1 percent and overseas-funded enterprises increased 7.9 percent.
For the first eight months, industrial production expanded 6.7 percent, a notch below the 6.8 percent growth registered in the first seven months.
Industrial output, officially called industrial value added, is used to measure the activity of designated large enterprises with annual revenue of at least 20 million yuan (nearly $3 million).
Output of textile industries rose 3.6 percent year on year in August, while the food processing sector climbed 5.6 percent.
Manufacturing output increased 6.9 percent, while output from suppliers of power, heating, fuel gas and water gained 8.7 percent. The mining sector, however, slipped 3.4 percent.
NBS data also showed fixed-asset investment grew 7.8 percent year on year to 39.42 trillion yuan (more than $6 trillion) in January-August, while retail sales of consumer goods grew 10.1 percent in August.