CCCC sees innovation as way ahead in global growth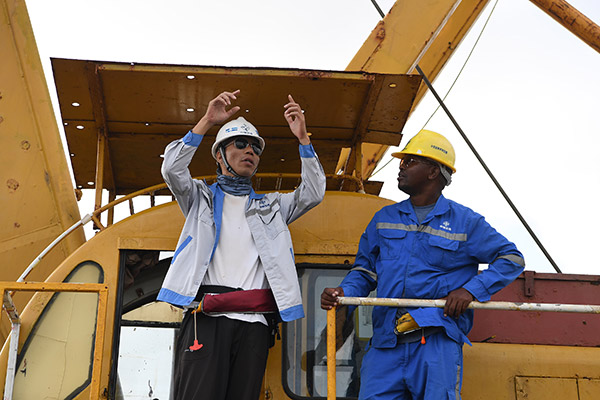 An engineer from China Communications Construction Co Ltd talks with a Kenyan colleague at a port construction site in Kenya. [Photo/Xinhua]
Company looks to diversified ownership to compete with foreign rivals
China Communications Construction Co Ltd, one of the country's largest infrastructure project providers by market share, will continue to innovate diversified ownership mechanisms and business modes abroad to compete with other established foreign rivals, said a senior executive.
CCCC is the only conglomerate among the eight giant companies, including China Poly Group Corp and China Merchants Group in State capital investment projects, that has gone public as a whole in the Hong Kong Stock Exchange.
However, it has reached a bottleneck in management and decision-making after over a decade of expansion.
"It faces the challenge of listing separate units in different stock markets, and innovating its asset structure and various cooperative modes including engineering procurement construction, public-private projects and build-operate-transfer," said Sun Ziyu, vice-president of CCCC.
"For smaller subsidiaries focusing on their pillar businesses, going public is practical to maintain sustainable development," Sun added. "But as CCCC has kept expanding and diversifying its business from bridge building to offshore engineering manufacturing, such a mode has reached the limit of its development. It is time to deepening reform and innovation."
Sun said that carving out separate units is the hardest part of the reform, as the company has no previous examples to follow.
"Optimizing asset structure is vital for a company to enhance its competitive edge," Sun said. "Through alternative financing modes such as PPP, CCCC has gained operational assets in the domestic market worth 250 billion yuan ($38.33 billion) in sectors including ports, underwater tunnels and industrial parks."
Domestic and overseas acquisition is another strategy CCCC has adapted to optimize its resources. So far CCCC has acquired John Holland Group, one of Australia's biggest engineering contractors, oil and gas industrial giant Friede and Goldman Ltd in the United States and Greentown Property Group in the domestic market.
The group gained 470 billion yuan of revenue and 24.1 billion yuan of net income in 2016, jumping 10.37 percent and 13.24 percent year-on-year respectively.
CCCC is also looking at further growth opportunities in overseas markets. The company has so far set up 210 offices in 109 countries and regions to manage its businesses and projects.
It has built over 10,320-kilometer of roads, 152 bridges, 2,080 kilometers of railway lines and 10 airports in economies involved in the Belt and Road Initiative.
In Kenya, CCCC completed a sea port project in Mombasa and a railway project in Nairobi this year. It won the contract for a $13 billion railway project in Malaysia last month. The project is the largest overseas project Chinese companies have ever contracted.
He Jingtong, a professor of trade at Nankai University in Tianjin, said China is increasing its use of domestic technologies, but as a starting point, there is also a significant share of international technologies.
"Its companies, primarily State-owned enterprises, have been keen to cooperate with foreign enterprises to work in 'third party' countries anywhere related to the Belt and Road Initiative."
Safety key at overseas projects
Protecting State-owned assets in emerging economies has become a critical mission for Chinese companies and sometimes it may involve the threat of death or severe injury, said a senior executive.
Echoing the national strategy of "Going Global", more State-owned enterprises have been seeking growth points and production capacity cooperation opportunities in overseas markets. However, those destinations involve less developed economies while the State-owned assets can be in constant danger, and even the life of the workforce can be at risk.
"Some places where our infrastructure projects are based are fairly unstable," said Sun Ziyu, vice-president of China Communications Construction Co Ltd.
He said certain places do not accept card payments and all the transactions have to be done by cash, and even some bank staff are in league with gangsters, so these criminals know when and where deliveries of cash will take place.
Once in Kenya, a van loaded with banknotes was attacked by armed gangsters, but the staff in the van refused to hand over the cash, according to the company.
"They were shot in the arms and other body parts before police arrived," Sun said. "While they could just have handed the cash to the gangsters and reported it as a casual loss, as every company has a budget for such losses, they didn't, even when facing a choice between life and death."
"This is the true spirit of Chinese workers in the frontline," he added.