Chinese contractor to complete first berth of Kenya's Lamu port in mid 2018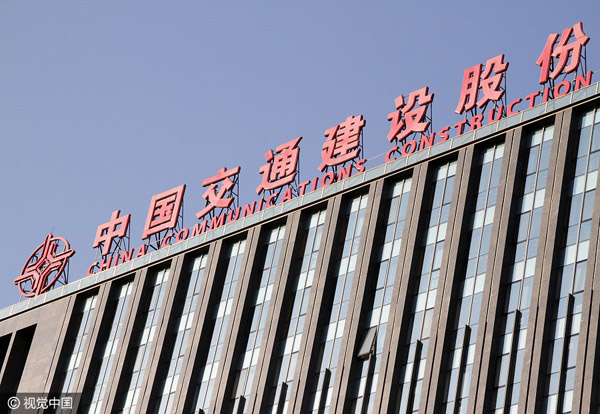 View of the building of China Communication Construction Company in Beijing, Jan 31, 2012. [Photo/VCG]
NAIROBI - Chinese construction firm, China Communication Construction Company (CCCC) is on course to complete the first berth of the Lamu port in mid 2018, Kenyan officials said on Thursday.
Lamu Port-South Sudan-Ethiopia-Transport (LAPSSET) Corridor Development Authority Director General Sylvester Kasuku told a media briefing in Nairobi that dredging works began in October 2016 and the work is currently 20 percent complete.
"China Communication Construction Company is expected to complete construction of the three berths by the year 2020 at a cost of $480 million," Kasuku said.
The East African nation has so far spent $120 million for the construction of the port with another $100 million earmarked for the next financial year.
Lamu port will have a total of 32 berths and is part of the LAPSSET Corridor Program which will cost over $26 billion to complete.
Kasuku said that the Kenya government will fund construction of the first three berths while the rest are expected to be funded by private sector under a public private sector framework.
The South African government has already signed a Memorandum of Understanding to develop the first three berths in the Lamu port.
"The South Africans are currently in the phase of submission of proposals and are undertaking discussions with relevant government agencies before commencing construction works," Kasuku said.
The port has also received inquiries from ten private firms seeking to invest in the infrastructure project.
Kasuku said that Lamu port is expected to surpass Mombasa port to become the largest port in Kenya in the next ten years.
The Director General said that the Mombasa port currently handles 1.2 million Twenty Foot Equivalent Units (TEUs) annually and has a maximum capacity of 2.5 million TEUs.
The first three berths of Lamu Port will be able to handle 1.2 million TEUs and when fully operational will handle 20 million TEUs.