Demographic cloud has a 'silver lining'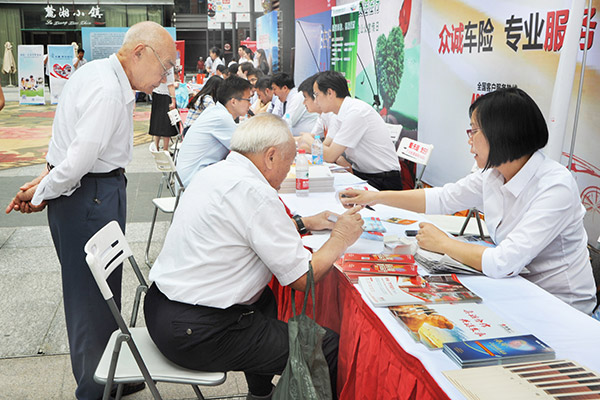 Ageing people consult insurance professionals for advice in Shanghai. Insurance is looking to play a bigger part in offering "living well" solutions for China's seniors, a report from Swiss Re says. [Photo provided to China Daily]
Insurers in China drool as people aged 65 or above are set to grow in numbers
The booming "silver generation" of China-people aged 65 or above-presents potentially huge opportunities for the insurance industry, an expert said.
"China is undergoing a huge demographic shift, with the proportion of its elderly population aged over 65 on track to grow from 10 percent (of total population) today to 24 percent by 2050," said Domenico Savarese, global head of ageing at Swiss Re.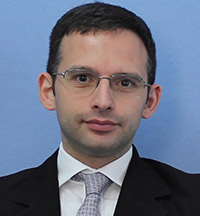 Domenico Savarese, global head of ageing at Swiss Re. [Photo provided to China Daily]
To be sure, the number of ageing people is increasing in the world's second-largest economy. According to the UN, the country's ratio of working-age population to retirees aged over 65 will decline from 7.7 now to 3.4 within the coming two decades.
Those aged 65 or over are projected to increase from 144 million in 2015 to 330 million in 2050, roughly the current population of the United States and nearly twice the current population of Russia.
The rate of increase in ageing population is more rapid in China than most other comparable countries across the globe.
According to the UN, it has taken China only 34 years for the proportion of its elderly population aged 60 or above to double from 7 percent to 14 percent.
In stark contrast, it took 115 years in France, 85 years in Sweden and 69 years in the US.
"From the perspective of economics, the ageing society does have its upside, as tomorrow's 'gray population' in China and around the world could translate into golden consumption and investment opportunities that insurers and reinsurers cannot miss out on," said Savarese.
Some 30 percent of global consumption growth between 2015 and 2030 is forecast to come from the elderly population in the developed world and China.
The country alone would contribute 10 percent of growth, he said.
With a less mature insurance market and underdeveloped social welfare system, China is known for its much higher level of family support to fund the elderly population, as informal care contributes more than a fifth of the ageing wallet, a latest report from Swiss Re showed.
The ageing wallet refers to the annual amount spent across State, family and private sectors to fund lives of the elderly aged over 65.
Insurance, currently accounting for a mere 2 percent of the nation's ageing wallet, could increase its small share to serve as a complement to such a family dynamic that would not disappear in the foreseeable future, he said.
"The findings highlight the key role that family support plays today, how it would evolve, and how do we make ourselves (reinsurers) relevant in this game," Savarese said.
Family's large share of the ageing wallet fits in well with the country's time-honored culture of "filial piety", where the younger generation cares for the old, says the report.
However, today's support structure appears to be vulnerable as the Chinese society is embracing structural changes, the report said.
A baby boom in 1950s followed by 36-year-long one-child policy meant the majority of working-age Chinese are the sole providers for their parents and grandparents.
Not to mention the nation's low fertility and ongoing rural-to-urban migration, which make the vast funding requirement of China's ageing society a challenge.
"All of these are pieces of a puzzle that should be considered by policymakers and pilot market players to get a better understanding and vie for a share of the country's promising albeit yet-to-be-explored silver economy," Savarese said.
Insurers in China today gain momentum mainly from the sales of health products, while innovations like cancer-only critical illness products also find a place in the market.
As the insurance sector sees itself as part of a wider ecosystem that enables successful ageing, it is looking to play a bigger part in offering "living well" solutions for the country's seniors, the report said.