Insurance sector to open further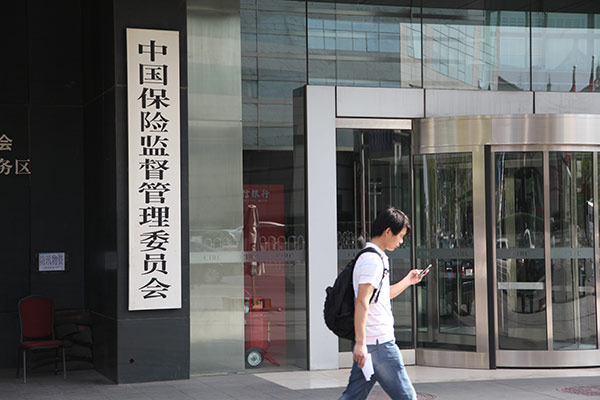 A visitor checks his cellphone at the gate of the China Insurance Regulatory Commission. [Photo/Liu Yuanrui, China Daily]

Leading industry official says more foreign firms will be welcomed to invest in China
China is going to further open its insurance market to foreign investors, and regulators are striving to make it more attractive to foreign insurance institutions, said Chen Wenhui, vice-chairman of the China Insurance Regulatory Commission.
Speaking at a meeting with executives of 10 foreign insurers in Beijing on Wednesday, Chen said institutions that have already been operating in the China market are encouraged to enter more sectors including casualty, retirement, and healthcare insurance.
The market environment will be further improved to help foreign insurers get more closely engaged in China's insurance market.
For insurers that have yet to enter the China market, regulators will further optimize policies to attract excellent players to the nation.
"More excellent players will make China's insurers more active," said Chen.
So far, China has 57 foreign insurers from 16 countries and regions, with 1,800 branches and outlets. All of the insurers on the Fortune 500 list operate in China.
The combined market share of foreign insurers has grown from less than 1 percent in 2001 to 5.19 percent at the end of 2016, and the combined assets of foreign insurers grew from 3 billion yuan ($195.76 million) to more than one trillion yuan by the end of July.
Zhu Junsheng, a researcher at the Research Institute of Finance, Development Research Center of the State Council, said: "Allowing foreign players to enter more areas and adjusting foreign insurers' stakes in joint ventures will enable foreign insurers to develop more business in China."
Insurance market growth is significant to real economic growth, said Sun Jie, insurance expert and deputy head of the department of insurance at University of International Business and Economics in Beijing.
"Insurance development helps real economy sectors reduce losses, finance and manage risks," he said.
China's insurance market has great potential to offer a wide range of varieties of product and cover more risks of residents and enterprises, said a research note by CICC.
"As wealth grows and lifestyles diversify, demand for protection grows. Fintech development will also help insurers in innovation and offer more products," the research note said.