Soaring sales of 'duty-free' boost profits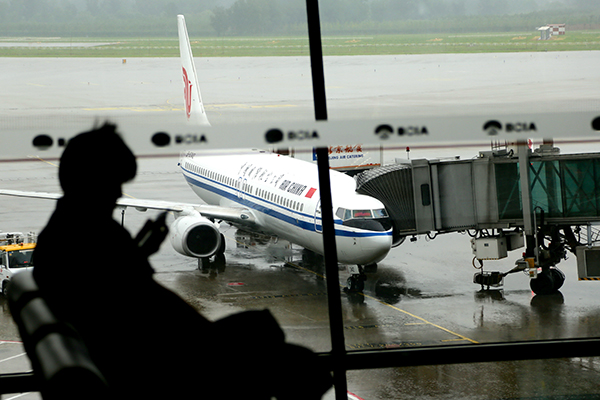 A passenger waits for his flight at Beijing Capital International Airport. [Photo/Xinhua]
Beijing Capital International Airport reports earnings rose by 40 percent
Beijing Capital International Airport Co Ltd has seen significant revenue growth from its non-aviation income, thanks to the booming business of duty-free stores, driven by a constantly growing number of international travelers and their strong spending power.
In the first half of this year, the airport netted sales revenues of 4.61 billion yuan ($700 million), an 8.8 percent increase year-on-year. Of that total, non-aviation income reached 2.16 billion yuan, jumping 13.5 percent over the previous period, according to its latest earnings report.
The airport said in its report that income growth of the non-aviation sector mainly comes from the growth of duty-free retailing business. In addition, income from advertising and catering has also helped to boost the airport's revenue growth. The increasing number of international travelers has resulted in the launch of more brands and stores, it said.
This year, the Chinese government started to allow airports to run open tenders for duty-free concessions. By June 30, the tender result released and showed that China Duty Free Group won the bid of running duty-free stores at the airport's Terminal 2, and Sunrise Duty Free won the bid of Terminal 3. Both companies will get the management rights for eight years.
Under the new agreements, duty-free operators at Beijing airport will share about half of their sales revenues with the airport operator, compared with 20 percent earlier.
"With the constant increase of Chinese tourists who travel abroad, it's very necessary to launch more duty-free stores at those airports in major and second-tier cities," said Zhu Weilong, an analyst at Kent Ridge Consulting.
"Those consumers who fly abroad and fly back have the shopping demand and abilities. There is a significant growth potential of the duty-free business at the airports in China."
By 2020, the number of outbound travelers is expected to exceed 200 million, surging 63.9 percent over 2016, according to the forecast of China National Tourism Administration.
Meanwhile, the Hong Kong-listed Beijing Capital International Airport achieved net profits of 1.26 billion yuan in the first half, surging 39.6 percent year-on-year.
Japan's Daiwa Institute of Research Group said in its report that Beijing Capital International Airport performed outstandingly in the first half year. For the full year, it has raised its forecast of the earnings per share for 12 to 13 percent.
For 2019, Daiwa cut its forecast of the earnings per share for 8 percent, as it expects the new Beijing airport facility is likely to have an impact on the performance of the old capital airport.
In the first half of 2017, 291,431 flights took off and landed at Beijing Capital International Airport, a 2.11 percent dip year-on-year. During the period, the passenger throughput reached 46,626,794, edging up 2.28 percent over the previous period.