Welcome to the new social shoppers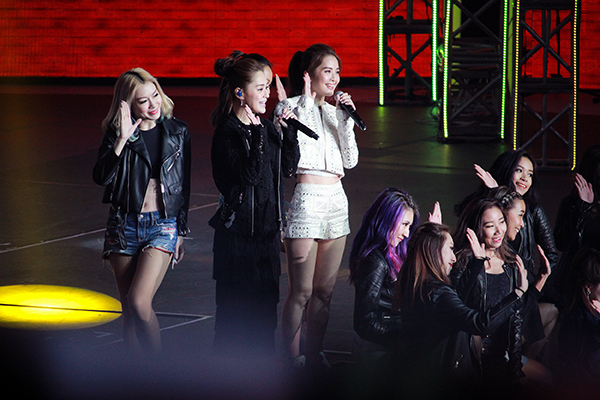 Famous Hong Kong singing group Twins perform at a QQ Music concert in Shenzhen, Guangdong province. Tencent's music division merged with China Music Corp in a bid to grab a larger slice of the domestic streaming market. [Photo provided to China Daily]
Digital media and entertainment drive retail and advertising growth of online economy for Alibaba and Tencent
Social media is transforming the online shopping business in China and fueling growth for the internet's big two players.
Alibaba Group Holding Ltd reported that revenue jumped by a staggering 56 percent to 50.2 billion yuan ($7.4 billion) in the quarter which ended on June 30 compared to the same period last year.
Rival Tencent Holdings Ltd came up with a similar set of stellar numbers with revenue soaring 54.8 percent to 49.6 billion yuan.
These bloated figures were triggered by surging sales online with Tmall, Alibaba's internet flag ship retail hypermarket, profiting from social media trending.
"Its 49 percent growth in physical goods volume is due to increased traffic because of the effects of social (media) commerce," said Maggie Wu, chief financial officer at Alibaba.
Naturally, China's largest e-commerce platform and Tencent are looking for new streams of growth as they reach near saturation point in their home market.
Tmall has 466 million active users, about a third of China's population, and they already buy daily essentials as well as big ticket items on the site.
As for Tencent, its social media app WeChat attracts an amazing 962 million people on a monthly basis.
Streaming content through sites such as these and Alibaba's Mobile Taobao smartphone app, as well as reviews and personal recommendations, are opening up new business opportunities.
Mobile Taobao, for example, is the customer-to-customer marketplace, which links up to Tmall and group-buying site Juhuasuan.
They have all added social media functions, allowing shoppers to share their "goodies and deals". One feature known as Wendajia, or Ask Others, is gaining momentum with the Taobao community by using big data technology.
"The advent of precise product searches and recommendations based on shopping habits are starting to pay off," said Alibaba's Wu.
"Digital media, entertainment and core commerce will continue to create more synergies," she added.
This approach reflects the results of a survey on the shopping habits of Chinese consumers aged between 19 and 22, which was carried out by Accenture, a global management consultancy.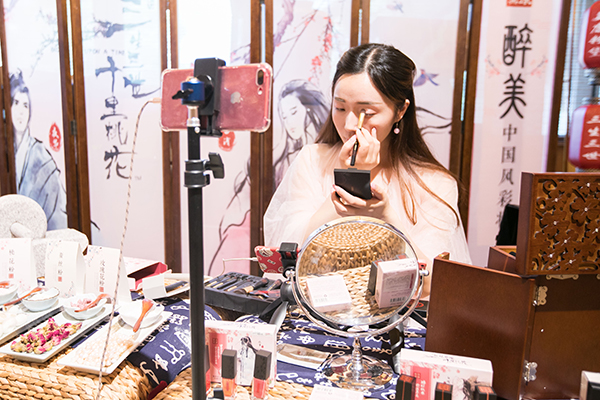 Watched by fans online, a model makes up in front of a mobile phone camera to promote cosmetic products related to TV series To the Sky Kingdom. [Photo provided to China Daily]
About 70 percent of those polled said they would place an order online through a social networking site. Again, nearly three quarters of those surveyed claimed they preferred video and live streaming sites when looking for brand bargains.
"Clearly, this is an indication that social media has become a major gateway to shopping rather than a mere communication portal," said Koh Yew Hong, managing director and retail lead for Accenture Asia-Pacific.
"Online media and internet celebrities are gaining traction because they can grasp what customers want," Koh added.
Digital entertainment in China continues to expand and it has become a new growth area for Tencent and Alibaba.
The final goal will be to build a whole "value chain" around the sector, Neil Wang, president of consultancy Frost and Sullivan Greater China, pointed out.
"The internet economy is all about the traffic economy and the fans economy," he said. "Quite simply, the more traffic you generate the more revenue you make.
"By highlighting various sectors, these internet giants are competing for the portal to keep existing users and acquire new ones," Wang added.
The best way to do this is to use short videos and live streaming services to promote and endorse products, and brands.
To show how it can be done, villagers in Youxi county, Fujian province, used live streaming via Taobao to market their local specialty kumquat, a fruit which looks like a mini orange.
Michelin star Italian chef Riccardo Messina and a Chinese internet celebrity were brought in to cook dishes during the live streaming.
"Internet celebrities are gaining traction because they grasp what customers want," said Xie Zhen, a director at Fujian provincial government e-commerce and information department. "It is a unique way of attracting the younger generation of shoppers."
It certainly worked as sales jumped substantially during the Spring Festival period from January to February compared with last year.
Hardly surprising then that the two big beasts of the internet jungle are looking for an edge to corner this market.
In a move to stay one step ahead of Alibaba, Tencent has embedded a "mini program" function into WeChat which encourages users to share their shopping tips and favorite products online.
A bolder approach has been shown by Mogujie.
The innovative social fashion app added three million users after launching a "mini program" in June which allowed viewers to watch skincare video tips.
"Compared with its indigenous app, the site's conversion rate, or the percentage of people placing orders among all browsers, more than doubled (during the following two months)," said Wang Fei, head of marketing and overseeing "mini program" development at Mogujie.
But the shopping site does not have the financial muscle or scale of the big boys.
Alibaba has steadily moved into this sector after snapping up Twitter-like service Weibo last year and splashing out $4.8 billion on China's top video service Youku Tudou Inc.
Both platforms will act as a staging area for the group's push into this new frontier of social media retail and ad revenue.
Tencent has also invested billions of dollars in video content in the belief it will generate online advertising revenue as it looks to come up with new digital offerings through WeChat and QQ platforms.
Last year, its music division merged with China Music Corp in a bid to grab a larger slice of a domestic streaming market that is expected to reach 4.37 billion yuan in subscription revenue by 2018.
Plans are also being made to float Tencent's online publishing arm China Literature Ltd in Hong Kong. Funds raised will be used to expand its mobile reading business.
"Mobile QQ, QQ browsers and Tencent News are among the key distribution reading channels for its broad base gaming and social networking users," said Zhang Yi, chief executive officer at consultancy iiMedia in Hong Kong.
Digital content has shored up Tencent's ad revenue. WeChat Moment and WeChat Official Accounts are packed with fashion brands, including background data and price ranges.
Brief descriptions of products are spliced with color pictures of upmarket luxury labels and fast fashion, as well as retail goods.
For many in the Chinese marketing industry, this is a good way of getting their campaigns across, according to GroupM, the world's largest advertising media investment company.
"It's because most marketers are intensive WeChat users themselves," said Wei Wei, general manager of mobile marketing at GroupM China. "It's natural for them to turn to WeChat for ad placement because they can feel the power of this platform."
Tencent announced that revenue derived from ad placements surged 81 percent to $15.8 billion last year compared to 2015 with WeChat driving the growth.
Apart from the advertising blitz, the gaming and entertainment behemoth is banking on QQ to draw a younger audience through leisure-oriented features.
More than 60 percent of QQ's 861 million active users were born between the 1990s and 2000s.
Most are free-spending and tech-savvy, the sort of customers retailers are looking for.
"Brands need to take into account the key traits of their target audience, such as age, gender, income level, geographical location, when leveraging Tencent's precise marketing," said Wei at GroupM.
Skincare brand Innisfree has taken it one step further. The South Korean company has forged a partnership with QQ, adopting Tencent's augmented reality, or AR, technology to entice shoppers.
By scanning a QR code on QQ, users are redirected to Innisfree's online shopping portal.
QQ-themed cartoon figures then pop up and recommend the latest skincare solutions before customers move to product catalogs and complete their online purchases.
"The social media platform is poised to bring in relevant online traffic to brands that can actually be converted into sales figures," said Li Dan, marketing general manager of Tencent Social Network Group.