Vacuum bottles get boost from drummer' photo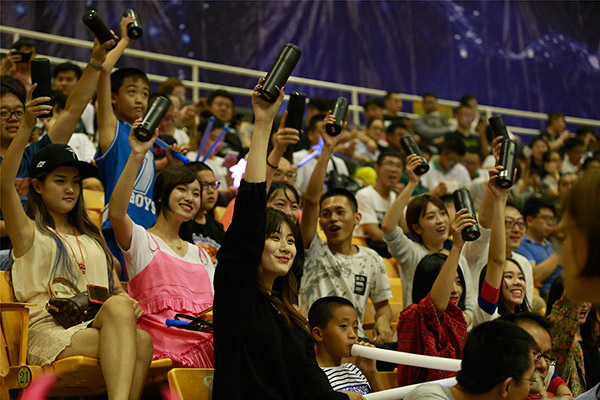 Fans of rock band Black Panther hold vacuum insulated bottles, the same product used by Zhao Mingyi, the drummer with the iconic band, during its performance on Saturday in Beijing. [Lan Jing/for China Daily]
A picture showing Zhao Mingyi, the drummer with the iconic Chinese rock band Black Panther, holding a vacuum insulated bottle has not only been widely spread online but also unexpectedly aroused consumers' interest in the bottle.
The picture, which first appeared on Zhao's personal Twitter-like Sina Weibo account on Aug 17, showing him looking into a black vacuum insulated bottle, received over 10 million views within 24 hours. Netizens felt nostalgic because the once skinny, rebellious and pioneering idol has become a grey-haired, fat middle-aged man who loves to drink warm jasmine tea.
Vacuum insulated bottles are extremely popular among Chinese consumers, especially the elderly, as they need to drink warm water wherever they go. It is widely believed by the Chinese that warm water is better for the health and that cold drinks are harmful.
Wang Li, sales manager of Yong Kang Jinfa Bottles, said that Zhao's vacuum insulated bottle is the most heatedly discussed topic among the industry's practitioners in the city.
"Middle aged and senior people have traditionally been the main consumers. But now the younger generation has emerged as the most promising group, and has even bigger market potential," said Wang, whose company has been producing vacuum bottles for 10 years.
Consumers have shown a great interest in the bottle. According to Tmall, a major online outlet of e-commerce juggernaut Alibaba, search traffic for vacuum insulation bottles jumped instantly after Zhao's picture became a hit online. Young consumers under the age of 30 accounted for 63 percent of the people searching for vacuum bottles on Tmall.
Vacuum bottle maker Tiger even sought cooperation with Black Panther by launching Black Panther branded bottles on Tmall, with a panther on the bottle. Each bottle is priced at 299 yuan ($45). The bottles will start delivery on Nov 5.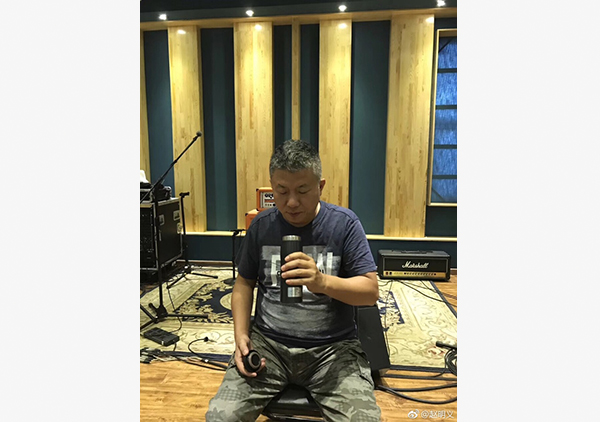 Zhao Mingyi, the drummer with the iconic Chinese rock band Black Panther, holds a vacuum insulated bottle. [Photo from Zhao Mingyi's Sina Weibo]
Another leading e-commerce platform Suning said that the search traffic and sales jumped 50 percent and 30 percent respectively since the spread of Zhao's picture. People born after 1985 and even those born in the 1990s were the major consumers.
Amazon China said that the sales of imported vacuum bottles increased 30 percent year-on-year in the past few months. The surge has been even more noticeable since April, with sales of Japanese brands jumping ten-fold.
Wang, from Jinfa, said that younger consumers have demonstrated a similar interest in vacuum insulations as the senior ones, although the younger generation might use the bottle to store cold beverages.
"Therefore, we have started this year to distribute on major e-commerce platforms to attract more younger consumers," she said.
Yongkang in East China's Zhejiang province, where Jinfa is headquartered, is a major vacuum bottle production base in the country. It is home to 200 bottle manufacturing companies, providing jobs to 100,000 people, according to the local statistics bureau. A total of 450 million vacuum bottles were produced last year, taking up 70 percent of the total production volume in China.
The output of the vacuum bottle industry amounted to 15 billion yuan in 2016. Apart from some local brands, a large number of the firms are original equipment manufacturer for world leading brands such as Tiger, Thermos and Zojirushi.
Yongkang-based Haers has also introduced new product lines to attract younger consumers. The Nonoo series is one such example.
"The younger generation have a greater interest in the bottles' design," said Yu Renfang, brand manager of Nonoo. "So we have to make them more fashionable and even add some elements of technology to the bottles."
Inspired by the social network craze, the flyer for Black Panther's concert held on Sept 2 in Beijing pictured the five middle-aged musicians peeking into a small vacuum bottle. Japanese vacuum bottle maker Tiger sponsored the concert, as Zhao was holding their product in the picture which went viral.