Chinese educational stocks pass the test with investors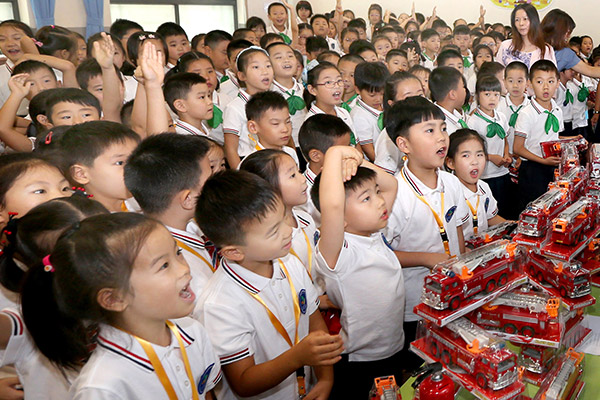 Students from Shanghai Sizhongxin Experimental Primary School, a private school on the mainland, get fire safety training on Sept 1, their first school day in the new semester in 2017. [Photo/Xinhua]
Sector is projected to expand and reach nearly $460 billion in 2020
Mainland educational stocks on Hong Kong's Hang Seng Index are predicted by market analysts to show strong long-term growth.
An array of mainland schools, educational companies and vocational training colleges have listed in Hong Kong during the past few years in a move to raise funds for expansion plans.
By 2020, the educational sector is projected to reach nearly 3 trillion yuan ($460 billion) compared to 1.6 trillion yuan in 2015, according to a report by global auditing advisory firm Deloitte China.
"Supported by the abolition of the one child policy and (rising) household income on the mainland, there will be increasing demand for quality education," DBS Vickers Securities, the Hong Kong-based trading arm of DBS Group Holdings, stated in an equity research report. "Price sensitivity for this service will (also) be low."
Private schools are the most attractive for investors as they have experienced rapid growth in mainland because of favorable government regulations, rising incomes and a shortage of educational resources.
Revenue from the mainland private educational industry is forecast to surge to about 495 billion yuan in 2020 from the nearly 288 billion yuan in 2015, according to global consultancy Frost & Sullivan.
Among the listed stocks, Minsheng Education Group Co and China New University Group provide private school education in various provinces.
The other listed companies are China Maple Leaf Educational Systems, China Yuhua Education Corp, Wisdom Education International Holdings and Virscend Education Co.
They cover private education through kindergarten to university.
"Strong earnings growth is expected for all these companies," equity analysts Manyi Liu and Dennis Lam stated in a DBS Vickers Securities research report.
"(This will be through) revenue growth due to tuition fee hikes and accelerated capacity expansion. (This will also) improve gross margins as expenses grow less than tuition fees," Liu and Lam added.
Mergers and acquisitions in the sector are expected by Liu and Lam in the future, leading to higher student numbers. This is a key factor for the performance of educational stocks because of tuition fees.
Still, Liu and Lam warned investors should be aware of management and operational risks at mainland educational institutions.