Expert says B&R Initiative can boost China's soft power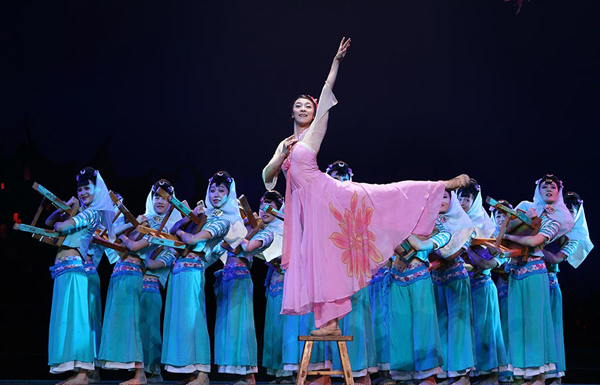 The show Dream of the Maritime Silk Road features a dancer during its Fujian performance on Aug 30. [Photo by Hu Meidong / China Daily]
LOS ANGELES - The Belt and Road Initiative is important for building soft power, said Clayton Dube, executive director of the University of Southern California's US-China Institute. "China has been accumulating greater soft power in several aspects."
Proposed by President Xi Jinping in 2013, the Belt and Road Initiative aims to build trade and infrastructure networks connecting Asia with Europe and Africa on and beyond the ancient Silk Road routes. It comprises the Silk Road Economic Belt and the 21st Century Maritime Silk Road.
"Once the railways are built into Southeast Asia, the tunnel through the mountains in Laos, the extension of railways into Central Asia-once that begins, it will help those countries with their own economic development," he said. "And if China is seen as an important partner in that, that will definitely help its soft power, it will make the country more attractive."
Soft power describes the ability to attract and co-opt rather than using force. Dube believes that adhering to the principles of peaceful co-existence will help China to improve relations with neighboring countries and to accumulate soft power in the region in the long run.
According to a recent global ranking of soft power report-The Soft Power 30 Index-China's influence has risen for the second year, up to 25th rank from 28th last year.
China has been "more committed" to developing its soft power, by opening hundreds of Confucius Institutes worldwide, and launching extensive international branding campaigns, according to the report.
The annual report completed in June is conducted by researchers from Portland, a strategic communications consultancy based in London, and the USC Center on Public Diplomacy.
"Chinese President Xi Jinping's speech at the 2017 World Economic Forum at Davos is very important. He spoke very much in favor of globalization, cross-border cooperation, and about addressing shared problems. This is good for China's soft power," Dube said.
He pointed out that China has been accumulating soft power through its participation in old international organizations as well as helping create new ones.
"The recent report showed that China's place in the soft power universe had improved," Dube said. "China has succeeded in the entertainment realm, in the sports realm, plus its participation has been positive in international affairs."
China's role in providing peacekeepers for the United Nations, in providing anti-piracy security services off the coast of Africa, in developing the capacity for providing disaster relief-all of that has been contributing to the improvement of China's soft power, Dube said.