More bullet trains to run from Beijing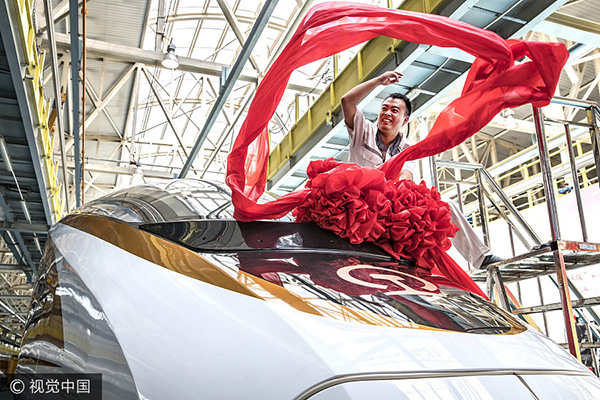 A staff thrilled about the launching of the new bullet train at a naming ceremony in Beijing, June 25, 2017. [Photo/VCG]
China's new generation bullet trains "Fuxing" will start to run in the Beijing-Tianjin-Hebei region from Monday, launching more operations after the models were officially announced on Beijing-Shanghai line in June.
Most of the trains will run between Beijing and Tianjin, while some will run between Beijing and Shijiazhuang, Hebei province, according to China Railway Corp, the State-owned rail operator.
The trains will serve nine stops in the region - Beijing South, Wuqing and Tianjin for the Beijing-Tianjin line, and Beijing West, Zhuozhou East, Gaobeidian East, Gaoyi West, Baoding East and Shijiazhuang for the Beijing-Shijiazhuang line - via a total of 43 one-way trips.
The new trains will also operate on Monday between Beijing and Guangzhou, Guangdong province, which will cover Xingtai East station in Hebei province, the CRC said.
With the world's most advanced high-speed trains in operation, the coordinated development of the region can be further promoted, the operator said.
The train models -- dubbed as Fuxing (rejuvenation) -- typically travel at a speed of around 350 kilometers per hour and are capable of reaching 400 km/h.
With complete intellectual property rights, "Fuxing" trains are entirely designed and manufactured in China.