China, Russia youth to exchange ideas on internet media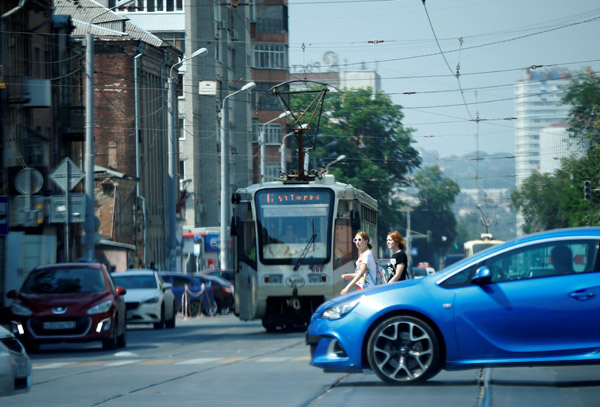 People cross the street in Rostov-on-Don, Russia, July 25, 2017. [Photo/Agencies]
Chinese and Russian university student representatives will take part in an eight-day event to exchange ideas on internet media in port city Rostov-on-Don, southern Russia from Sept 15.
The event is being organized by chinadaily.com.cn and Don State Technical University.
During their visit to Rostov-on-Don, students from China will communicate with their Russian peers on internet media technologies and together they will produce a video clip on the city landscape, which will be broadcast at the opening ceremony of the China-Russia Forum: New Media · Youth Collaboration.
The IPDC Talks, a TED-style speech series, and e-sports exhibition games will highlight the forum.
IPDC stands for the International Programme for the Development of Communication, which was launched at the 21st session of the United Nations Educational, Scientific and Cultural Organization, or UNESCO, in 1980, with the aim of promoting media development in developing countries.
IPDC Talks brings together government officials, business elites, journalists and scholars to discuss issues that are of international concern. The topic of the IPDC Talks this time will be "Powering sustainable development with access to information".
The exhibition games will see top FIFA and DOTA e-sports players from China and Russia compete and show their muscles.
The China-Russia Forum: New Media · Youth Collaboration is a continuation of last year's China-Russia Internet Media Forum & China-Russia New Media Youth Leadership Summit held in Guangzhou, Guangdong province, in October.