Sinosure to help exporters in wake of policy change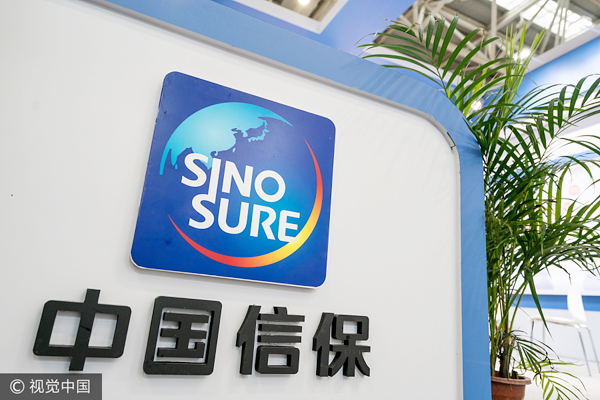 Sinosure's logo is seen at an office in Fuzhou, Fujian province, June 19, 2017. [Photo/VCG]
In the wake of the US launch of an investigation into Chinese trade practices, China Export and Credit Insurance Corp, also known as Sinosure, said on Thursday that it will guarantee the interests of related Chinese export companies-based on insurance policies-and help them expand new markets.
Zha Weimin, deputy general manager and spokesman of Sinosure, China's only policy-oriented insurance company, said that if the US slapped on unilateral sanctions it would harm bilateral economic and trade relations.
"In the short-term, the default risks of US buyers will be higher and Chinese export companies will suffer losses; in the long-term, the trade barrier with the US will make Chinese exports transfer to other countries," Zha said.
US President Donald Trump earlier this week called for an investigation into China over US intellectual property practices and technology transfers. As a result, US Trade Representative Robert Lighthizer, a veteran Reagan administration trade official, opened an investigation against China under Section 301 of the Trade Act of 1974.
"China Export and Credit Insurance Corp will guarantee the interests of Chinese export enterprises, based on insurance policies, if they suffer losses and positively support them to expand new markets and improve international competitiveness," Zha said.
Zha added that Chinese exporters should pay attention to the change in US import policies and be cautious when delivering goods, keeping open full lines of communications with US buyers.
China Export and Credit Insurance Corp has provided about 70,000 companies going abroad with insurance, risk management and financing services.
In the first six months of this year, the insured amount of the company totaled $257.4 billion, increasing 14.6 percent year-on-year. It also paid a total of $520 million in indemnity in the first half, up 0.6 percent year-on-year.
The policy-oriented insurance company offered 156 programs in connection with Belt and Road countries and regions and insurance services in the first half this year-33 of them national programs. Since the Belt and Road Initiative was put forward in 2013, its insured amount for Belt and Road programs has totaled more than $480 billion.
The company also said it had done a lot of work on Chinese manufacturing companies going abroad. It said its insured amount for the Chinese shipping industry in the first six months increased 14.7 percent year-on-year.
"We will continue to support Belt and Road programs and those in strategic emerging industries such as new energy, new materials and high technology," Zha said.