Buoyant Ikea gears up for more store expansion in China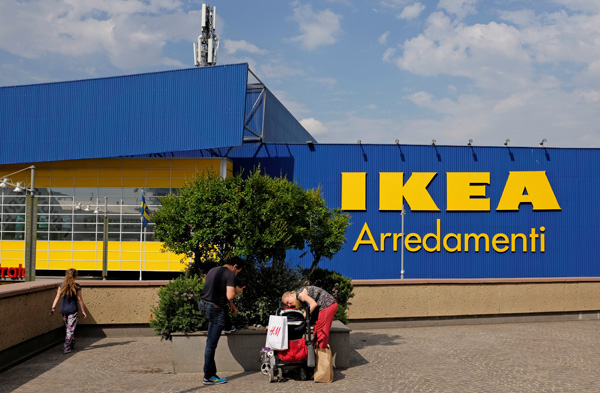 A family is seen in front of an Ikea shop in a mall in Rome, Italy, May 19, 2017.[Photo/Agencies]
Ikea Group plans to open three new stores in China in its new financial year, which has just started, the head of the Swedish furniture and home accessories group in China said on Thursday.
Angela Zhu, country retail manager of Ikea Retail China, told China Daily in an interview in Shanghai, that the group would also enhance its distribution networks and e-commerce presence in the mainland.
Ikea's store expansion plans comes in the wake of strong results that saw revenue in China, in its full 2017 financial year to August 10, surge 14 percent to more than 13.2 billion yuan ($1.98 billion).
Zhu said the new stores will be located in Guangzhou in Guangdong province, Tianjin municipality and Xuzhou in Jiangsu province. Next year marks the 20th year for the Swedish company in China, where it already operates 24 stores.
In the financial year to August 10, more than 90 million people visited its stores in China, an increase of 11 percent, Zhu said.
Moreover, its China country website-ikea.cn-had 75 million visits last year, representing growth of 24 percent.
Zhu said the company's newly launched e-commerce services improved interactions with consumers and helped Ikea better understand their consumption patterns.
Multi-distribution channels would continue to be the focus of Ikea China, she added. This year, the company has opened three new stores in Nantong in Jiangsu province, Harbin in Heilongjiang province, and Jinan in Shandong province.
In March, Ikea opened its first pickup and order outlet in Beijing, a smaller store compared with the 30,000 to 40,000 square meter regular Ikea stores. The area allocated for a pickup and order point is only 3,000 square meters.
"Chinese customers are very fond of shopping in a shopping center, with quick and easy access to get in and get out," Zhu said.
"Buying is no longer the sole purpose when visiting a shopping center. Consumption can be spontaneous."
The goal of a plan to have a better layout of distribution systems and logistic resources-including five customer distribution centers and five parcel units-is to make sure the "last mile" of the delivery is convenient and fast, she said.
Ikea is likely to work with a third party e-commerce platform to make its online services nationwide in the coming years, Zhu added.