China continues to see slowdown in luxury goods spending: Report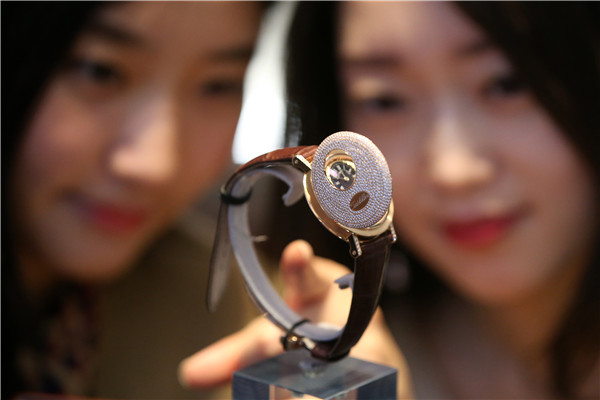 Two women inspect a Breguet wrist watch inlaid with 706 diamonds, and priced 1.77 million yuan ($276,563). CHINA DAILY
BEIJING - Sales of major luxury goods companies on the Chinese mainland and Hong Kong fell by 2.4 per cent year on year in the 2015 financial year, a report showed.
According to an industrial report released by international auditing and consulting firm Deloitte, the slowing economy has resulted in lower spending, and the central government's crackdown on luxury gifts in the corporate sector continues to have an impact.
Nevertheless, demand remains steady among the country's expanding middle class as they continue to buy better quality products and showcase their social status with their growing disposable incomes.
As in other emerging markets, prices of luxury goods in China are being adjusted downwards to bring them in line with global markets, which is encouraging more Chinese consumers to purchase luxury brands in the domestic market.
The report also found that almost half of luxury purchases globally were made by consumers who were traveling, either in a foreign market or at the airport, especially by consumers from emerging markets, who typically do not have access to the same range of products and brands that can be found in more mature markets.