UK pet food maker takes bite out of growing market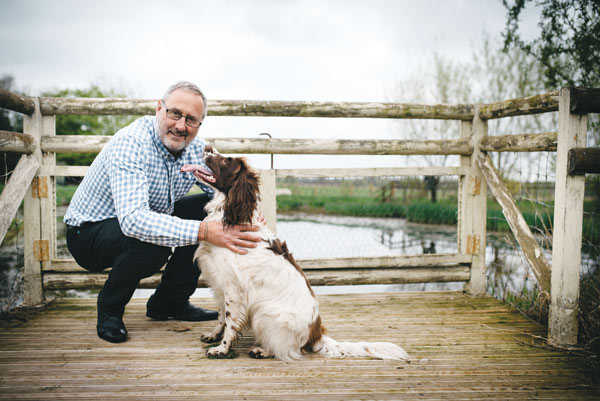 Fish4Dogs CEO Graham Smith with his pet, Sadie. [Photo/China Daily]
Company excited by massive potential of near $20 billion spend on products
The Chinese pet-care industry is one of the world's fastest-growing and a United Kingdom company that specializes in fish-based animal food is targeting the nation's rapidly expanding middle-class, and its love for pets.
Fish4Dogs from England's Worcestershire county, in the West Midlands, has been using e-commerce platforms to find Chinese customers who want good-quality food for their pets.
Fish4Dogs started selling pet food in the world's second-largest economy in 2010, after it was approached by Ocean Star at a time when the online Chinese company wanted to expand its business, from selling local pet-food brands to specializing in Western brands on its websites and in stores.
Fish4Dogs also sells on JD.com, one of China's major e-commerce platforms.
Graham Smith, Fish4Dogs CEO, said: "E-commerce is a key channel to market, which was used by Ocean Star to promote Fish4Dogs outside of the traditional pet-shop trade, and this has enabled the brand to be purchased in more rural areas of China. Social media is harnessed to allow 'word-of-mouth' to spread from one engaged consumer to another. Satisfied customers with healthy, happy pets spread their good news to prospective customers, about the benefits of feeding a fish-based diet to their dogs and cats."
According to data from China's National Bureau of Statistics, the nation has become the world's third-largest pet market, after the United States and Japan.
The country's pet owners spent 130 billion yuan ($19.35 billion) on their animals last year, up 21.4 percent year-on-year. China's pet industry could be worth more than 200 billion yuan by 2020.
"The biggest challenge was where and how to start," Smith said."The solution was to build sales, one city at a time. So, with a tailor-made strategy of having a technical pet nutritionist, plus sales resources, we did just that, focused on one city at a time, starting in Ocean Star's home city of Shenzhen. Then, over the years, we moved to Shanghai, Beijing, etc."
In 2017, Fish4Dogs was awarded the Queen's Award for its export success and rapid development of international markets.
Dogs are much more popular than other types of pet in China, where people prefer pedigree breeds and high-quality products, meaning other companies are likely to target the market, but Smith isn't worried about competition.
"Fish4Dogs had the advantage of being a first-mover in using fish as the single protein source in dog food. Of course, and partly driven by our own success, other players are entering the market. We believe we are the original and best and continue to innovate to stay ahead of our competitors," Smith said.