Neighborhood's good for exports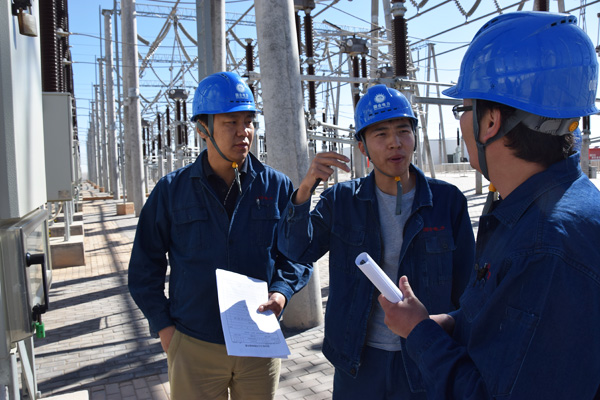 Technicians of Mongolia Oyu Tolgoi Co Ltd and IMPC exchange experiences at a power station in the Inner Mongolia autonomous region. [Photo provided to China Daily]
State-owned, Hohhot-based Inner Mongolia Power (Group) Co Ltd or IMPC, the largest power exporter in North China, is seeking to exploit opportunities presented by the Belt and Road Initiative to go global.
The Chinese government has been encouraging domestic power companies to become global players. It is also keen that the country's power grids should connect with other countries' networks for optimal utilization of energy resources.
For IMPC, this is a positive situation because it has surplus electricity that it wants to export to new markets.
Mongolia in its neighborhood is the nearest export market. So, the company is focusing on it for now, but has plans to expand to other countries later.
Given the imminent development projects and exploitation of mineral resources, Mongolia's power output needs to be augmented manifold. So, the country is planning to build new power plants, and looking for partners that can bring in both capital and technology.
IMPC, through its subsidiary, is willing to get involved in the construction of power plants and power grids in Mongolia.
"We are willing to take part in the construction and operation of power plants in Mongolia.
"We are trying to promote development of the power sector in both countries through comprehensive, deep and multi-sector cooperation," said Wang Yucheng, chairman of IMPC.
"Mongolia's focus on power provides us with a good opportunity to enter its electricity market and contribute in terms of design, construction, operation and management of power plants and power grids."
In September, several technicians from National Power Transmission Grid, Mongolia's state-owned power company, the largest in the country, will visit China for a training course to be conducted by IMPC.
"We hope to share our technologies, management expertise and testing standards with them, so as to promote power development in Mongolia," said Guo Kang, deputy chief engineer of Inner Mongolia Power International Cooperation Co Ltd or IMPC International, a wholly owned subsidiary of IMPC.
Established in 2011, IMPC International was set up to construct a badly needed power supply line for Mongolia Oyu Tolgoi Co Ltd or OT, a copper mine.
The larger goal was to promote power cooperation between the Chinese autonomous region and Mongolia, and expand power services to neighboring countries.
IMPC International is the only 220-kilovolt power supplier to Mongolia in the west Inner Mongolia power grid, and its power accounts for more than 90 percent of China's electricity export to Mongolia.
From November 2012 to May-end this year, IMPC International exported 4,480 million kilowatts of electricity to OT, according to the company.
A four-year cooperation agreement between IMPC International and OT ended successfully in June. Another six-year cooperation agreement was signed after that.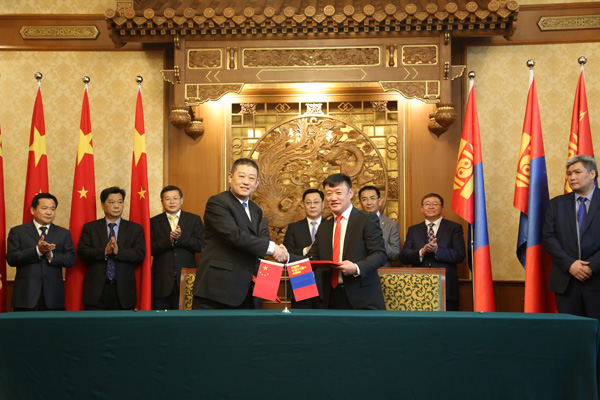 Zhang Jianwei (fourth from left), general manager of IMPC International, shakes hands with B. Nyamsambuu, general manager of Mongolia's National Power Transmission Grid, at an agreement signing ceremony in Beijing. [Photo provided to China Daily]
Galsan Batsukh, president of OT, has high praise for IMPC International's efforts in supplying stable power. He said as much when he met IMPC's Chairman Wang during the latter's visit to OT.
"We will, as always, keep our promises, honor the agreements and ensure safe power supply with high-quality services and advanced technologies," Wang said.
Guo said, "We also provide free services for our partner, such as power utility inspection."
On May 12, IMPC International signed an agreement with Mongolia's National Power Transmission Grid, for another six-year cooperation in electricity purchase and sale for OT copper project.
"We are actively participating in the planning and investment of the power industry in southern Mongolia, and looking forward to cooperating with Mongolia in the power sector," said Jia Zhenguo, general director of IMPC at the signing ceremony on May 12.
OT has 8,500 staff, and is one of the largest such facilities in the world. It is also a strategic project that is key to Mongolian economic development as it accounts for one-third of GDP.
Its largest shareholder is Rio Tinto with a 66 percent stake. Rio's senior managers help in operations and management.
IMPC International is planning to set up an office in Ulaanbaatar, capital of Mongolia, so as to strengthen communication with its Mongolian partners.
Mongolia may find it difficult to establish on its own power plants at certain locations in Mongolia's key provinces, so IMPC International is willing to broaden its cooperation beyond energy for a win-win situation, Wang said.
"IMPC International has the ability to play an important role in power grid construction and operations, and can contribute capital, technology and management."
Mongolia's total installed capacity is 1,047 million watts, or less than 1/50th that of Inner Mongolia's western power grid.
IMPC International has another Mongolian client, Nalin Suhai Tu mine, for which it is setting up a 110 kV power supply line. Power from China's Ceke port will be supplied to the mine, said Wang.
"Once we receive the necessary approvals, we will begin design and equipment procurement work."
As of March 25, the company has exported 300.4 million kW to Mongolia, up 5 percent year-on-year.
Contact the writer at mengfanbin@chinadaily.com.cn