At the heart of bike-sharing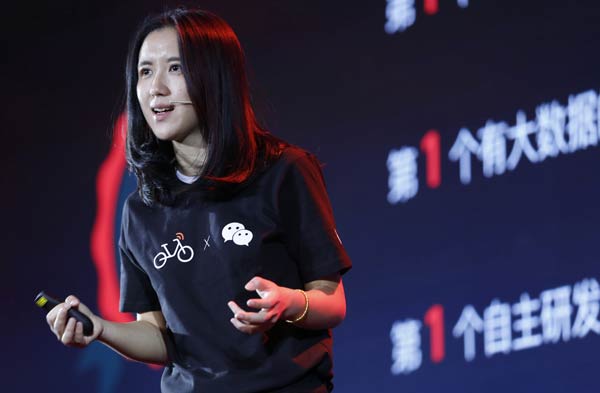 Hu Weiwei, founder of bicycle-sharing startup Mobike Technology Co Ltd, speaks at a news conference in Beijing. [Photo/Xinhua]
Hu Weiwei, 35, founder of bicycle-sharing startup Mobike Technology Co Ltd and a former auto reporter, thinks entrepreneurs and journalists have a lot in common.
Running one of the country's fastest-growing startups is not very different from writing a well-rounded story, she said.
"In a sense, all reporters are their own bosses. The whole process of selecting a topic, doing the interview, writing, fact-checking, rewriting, giving a different spin... all this is time-consuming, and comparable to working overtime to refine an internet product."
Before setting up Mobike in 2014, she had been an auto reporter for almost 10 years. Sheer enthusiasm for tech-based, GPS-enabled bicycles pushed her to a new direction.
Three years on, Mobike is a darling of big investors such as Tencent Holdings Ltd and Sequoia Capital.
In June, Mobike raised more than $600 million in its latest round of financing, taking this year's funding past $1 billion.
"Both journalists and entrepreneurs bet on logical thinking to make critical decisions and they are driven by a strong inner desire for breakthroughs," Hu said.
Pursuit of a breakthrough in commuters' last-mile connectivity drove Hu to give up her career in journalism and become an entrepreneur.
That was the easy part. Leading Mobike on its ride to the top of the bike-sharing market was tougher. And, Hu said, it's not easy to coast on past success in the fast-expanding market.
Mobike is locked in a fierce battle with archrival Ofo Inc for pole position in the burgeoning sector, both at home and abroad. Both companies claim their services are now available in more than 150 cities globally, but mostly in China.
Mobike said it now operates in five countries (China, Singapore, Japan, the UK and Italy). Ofo is running pilot projects in six countries, including Thailand, Singapore, the US and Kazakhstan.
Hu said experience in journalism is useful but not enough in helming Mobike to out-compete Ofo. "I used to be a lone hand, but now teamwork is the key. I used to be highly individualistic, but now I need to build and lead a team. That's where I have made the biggest progress and I need to keep learning."
To better run daily business operations and deal with financing issues, Hu invited Wang Xiaofeng, former manager of Uber Technologies Inc's Shanghai branch, to be a co-founder and CEO of Mobike, and assumed the role of president herself.
"Wang is more like the brain, while I function as the heart," Hu said, adding that should not be taken to mean she is highlighting male-female differences. In work on products, passion needs to be complemented by business sense to avoid negative outcomes, she said.
In recent months, Hu's focus has been on accelerating overseas expansion. Mobike aims to expand its presence to 200 cities globally by the end of this year.
It is an ambition shared by Ofo, which is backed by Alibaba Group Holding Ltd and Chinese car/taxi-sharing market leader Didi Chuxing.
To make Mobike stand out, Hu has been personally involved in overseas promotions. Europe is a focus area for Mobike. Late July, she rode a Mobike bicycle along with Dario Nardella, mayor of Florence, and Beppe Sala, mayor of Milan, in Florence, Italy.
Commercial services will start this month with about 4,000 bikes launched in each of the two cities.
Earlier, she attended an exhibition in Amsterdam in the Netherlands explaining the company's philosophy to government officials from different countries.
"Bike-sharing is a Chinese innovation, different from previous technology fads learned from the West. We've the scale and experience to help foreign consumers benefit from our innovation," Hu said.
But not every city is welcoming as Florence and Amsterdam. "Some are rolling out the red carpet while others ... well, we spend a lot of time to ease their concerns."
So, Mobike is tailoring its promotions to the specific situation of each city. For example, it highlights how bike-sharing services can help ease urban traffic congestion, or focuses on building tech-based transportation projects, or encourages social participation.
Mobike has launched a new bike model to abide by UK laws that stipulate all bicycles must have headlights and taillights. It also partnered with local governments to ensure that users do not park bicycles haphazardly on sidewalks inconveniencing pedestrians.
On a personal note, Hu said work-life balance is not easy to achieve running a Chinese startup. Hu often takes her 7-year-old ingenious son along to office where he plays games such as counting the number of bicycles in the parking lot while she is busy with work.
"I believe showing him how mom looks like when at work and showing the bigger world is also important (education for a child)."