China powers up on nuclear projects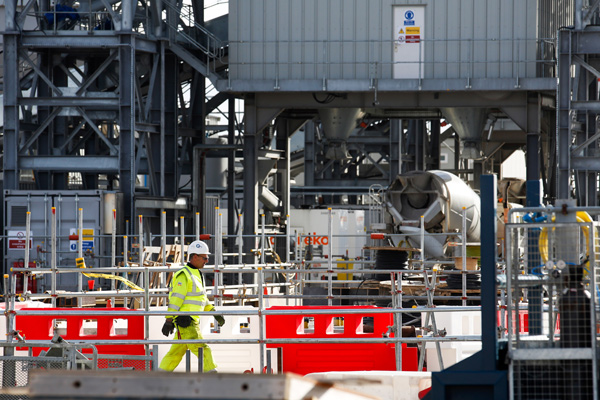 A worker walks through the concrete batching area during the early part of pre-construction at the planned Hinkley Point C nuclear power station in the United Kingdom. LUKE MACGREGOR / BLOOMBERG
CGN is becoming a major player on the global stage after expanding its civil uranium supply chain to meet increased domestic demand
China's largest nuclear power group is expanding its uranium supply chain for domestic and worldwide civil projects.
The State-owned China General Nuclear Power Corp has put together agreements in most of the uranium-producing countries, including Namibia, Kazakhstan, Australia and Canada.
This has been part of the company's development in the past 11 years, Yu Zhiping, general manager of CGNPC Uranium Resources Co Ltd, a subsidiary of CGN, stressed.
"It is extremely important for Chinese nuclear power operators to secure uranium resources overseas for long-term supply security," said Joseph Jacobelli, a senior analyst of Asian utilities and infrastructure at Bloomberg Intelligence in Hong Kong.
CGN is one of only two companies in the country permitted to import nuclear fuel, along with China National Nuclear Corp. It operates in 20 countries from its headquarters in Shenzhen, with total assets worth 430.7 billion yuan ($64 billion).
The group, founded in the 1990s, expanded its links with Kazatomprom after inking a 10-year deal with the Kazakhstan State-owned company in 2010.
Back in May, CGN announced that it would increase its nuclear fuel supply, including uranium mining, nuclear fuel pellets and nuclear fuel fabrication, to cater for rising demand for its civil power plant projects.
Yu also confirmed that the nuclear fuel fabrication plant in Kazakhstan, a joint venture between Kazatomprom and CGN, is expected to be operational by 2019.
"The fuel will be supplied mostly to CGN projects at home and abroad," Yu said. "The fuel will also be supplied to Kazakhstan's planned nuclear plant."
Besides its close business ties in Kazakhstan, CGN owns and operates the Namibian Husab Uranium Mine, which can produce 5,500 metric tons of nuclear fuel per year. It is the third largest uranium mine in the world.
Last year, the company also paid $63.78 million for 19.99 percent stake in Fission Uranium Corp in Canada. It was the first direct investment by a Chinese group in the Canadian uranium sector.
Along with Australia, Kazakhstan and Canada account for 63 percent of the world's uranium resources, figures released by the International Atomic Energy Agency showed.
Industry insiders believe Chinese corporations have the potential to become major global players when they come to civil nuclear technology after beefing up their supply chains.
"Strategically, it is important for any country with ambitious nuclear power generation expansion plans to secure fuel resources," Jacobelli, at Bloomberg Intelligence, said.
"Given China's long term expansion plans for nuclear power, it is highly unlikely that the country will be self-sufficient," he added.
Still, there are few countries expanding their civil nuclear power sector, so uranium supplies should not be problem, Jacobelli pointed out.
Although the price of uranium is expected to climb in the long term, CGN is considering acquiring more assets to cope with demand.
The rise of civil nuclear power generation in China has been staggering with capacity doubling between 2010 and 2014 to about 20 gigawatts.
It is now almost certain to triple by 2020 to 58 GW annually, or the equivalent of providing electricity for at least 135 million households, Bloomberg Intelligence estimated.
And massive growth should continue into the next decade.
"Relative to constructing wind or solar facilities, the building of civil nuclear power plants is more complex as security is the number one priority," Jacobelli said.
"Nuclear power projects take about five years in the construction phase and that does not include planning and approval," he added. "A wind or solar facility of medium size takes less than a year."
But nuclear energy plays an "irreplaceable role in China's energy security", CGN Chairman He Yu pointed out. It also helps to reduce air pollution caused by coal-fired power generation.
He has called for the mass production of the country's homegrown third generation Hualong One reactor, suggesting that up to six civil nuclear plants should be built annually in the run up to 2020.
This would increase nuclear power capacity in China to at least 150 GW by 2030.