Investors on shopping spree for landmarks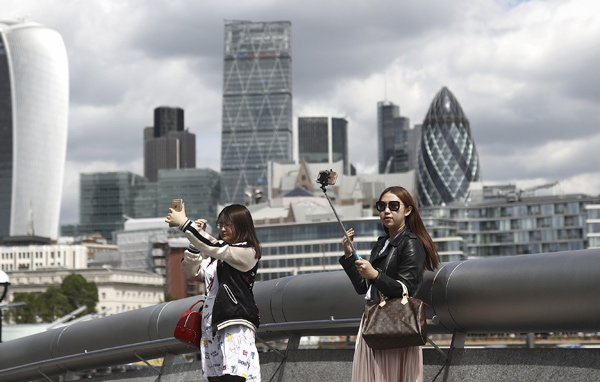 Tourists use their smartphones to take selfie photographs as skyscrapers including Tower 42, the Heron Tower, the Leadenhall building, also known as the Cheesegrater, 30 St Mary Axe, also known as the Gherkin, and 20 Fenchurch Street, also known as the Walkie-Talkie, stand beyond, in London. BLOOMBERG
First, it was The Cheesegrater; then, The Walkie-Talkie. Now, industry analysts are asking what will be next as Chinese commercial property investors snap up London landmarks. The Gherkin? The Shard?
The buildings are all high-rise towers in and around the City, London's main financial district.
China's LKK Health Products Group paid 1.28 billion pounds ($1.68 billion) last week, the biggest-ever price tag for a UK building, when it bought 20 Fenchurch Street, which is colloquially known as The Walkie-Talkie.
The massive purchase followed the sale of the Leadenhall Building earlier this year, which is known as The Cheesegrater.
The other two buildings, also nicknamed for their unique shapes, are not for sale, but neither was The Walkie-Talkie before LKK made its owners an offer they could not refuse.
The purchase of commercial property in London by Chinese buyers has been accelerating at an unprecedented rate.
The latest figures from real estate agent CBRE show Chinese investors bought UK commercial property worth 4.5 billion pounds in the second quarter of 2017, a six-fold increase year-on-year.
Meanwhile, statistics from real estate agent JLL show Chinese buyers invested 3.4 billion pounds in London properties overall in the first half of this year, which was 42 percent of all purchases.
Eric Pang, head of the China Desk at JLL, said, "We continue to witness the emergence of Chinese capital globally."
He said he expects China's share of investment in the UK to continue to rise.
Depreciation of the pound because of uncertainties around the UK's exit from the European Union is a key contributing factor, helping Chinese investors buy sterling assets at a discount.
Recent transactions also demonstrate the popularity of safe assets in prime locations.
The Walkie-Talkie, for example, is considered a safe asset because the building's space is fully leased to investment-grade-rated commercial tenants. The shortest lease in the building is for 13 years, meaning LKK has a guaranteed income for many years to come.
CC Land bought The Cheesegrater for 1.15 billion pounds in March, and China Resources Land bought 20 Gresham Street in May for 315 million pounds.
Critics have questioned whether Chinese investors have been buying trophy assets at inflated prices, especially in light of the fact that the sellers of both The Walkie-Talkie and Cheesegrater said they sold for exceptionally good prices.
But James Beckham, head of London capital markets at real estate agent Cushman & Wakefield, said Chinese investors can still enjoy good returns, despite the high prices they paid.
"The British developers have done a lot of work in the property development process, so their profit margins are justified. For the Chinese investors, they are looking for very safe, long-term assets, and they are getting that," Beckham said.
Rental yields for both The Walkie-Talkie and Cheesegrater are around 3.4 percent, which is favorable compared to similar assets in other geographical regions, Beckham said.
Sammy Lee, LKK's chairman, said he was "delighted" with the Walkie-Talkie deal. The company said it paid a reasonable price for a long-term investment.
Meanwhile, the City's local government team has invested heavily in strengthening relationships with landlords, developers and occupiers, to make properties in London's financial district more attractive, as part of a campaign to uphold the image of London as a global financial center, despite Brexit uncertainties.
Efforts are focused on embracing "co-working, flexible office spaces, and the new wave of technology, media and telecoms companies attracted to the City", said Chris Hayward, chairman of the planning and transportation committee at the City of London Corp.