China's gold output drops in H1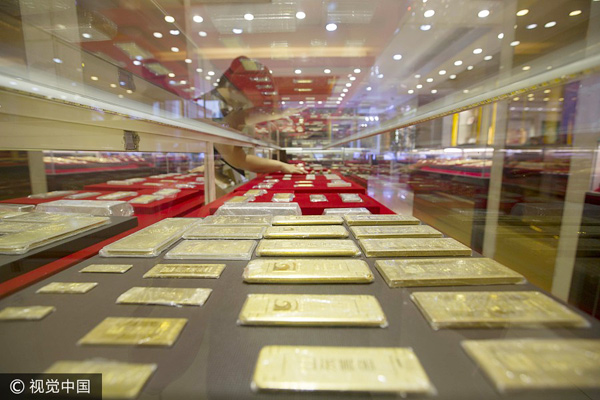 Gold bars on display at a jewelry store in Taiyuan, Shanxi province, July 28. [Photo/VCG]
BEIJING - China's gold output dropped in the first half of this year due to stricter rules on solid waste from production and shrinking reserves.
A total of 206.54 tons of gold were produced in January-June, down 9.85 percent from a year ago, according to the China Gold Association. Among the total, 178.46 tons were gold mineral, while 28.08 tons were a byproduct of nonferrous metal smelting.
The ten top gold producers accounted for 53.24 percent and 39.74 percent of the country's total refined gold and gold mineral output respectively.
China adopted new rules last year to raise environmental requirements on solid waste from gold prospecting, leading to a wave of gold mine closures and output declines in major producing provinces, including Shandong, Jiangxi and Hunan.
Years of intensive gold mining has resulted in falling reserves and production halts in several areas, including Qinghai and Gansu.
Despite the downturn, gold consumption rose nearly 10 percent year on year to 545.23 tons in H1, with surging imports. The consumption of gold bars increased more than 50 percent.
Gold has again become a favorite of investors who are looking for safe assets in fear of fragile global financial markets amid rising geopolitical uncertainty, the association said.
Global gold prices averaged $1,238.6 per ounce in the first half, 1.43 percent higher than a year ago.