China to boost gold output by 2020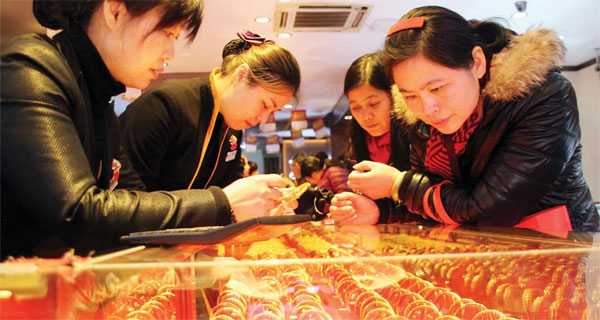 Customers select bracelets at a jewelry store in Suzhou, Jiangsu province. Wang Jiankang / For China Daily
BEIJING - China will increase its annual gold output to 500 tons by 2020 from around 450 tons currently, according to the Ministry of Industry and Information Technology (MIIT).
In the 2016-2020 period, gold output should grow by an average 3 percent annually, the MIIT said in latest guidelines for the gold industry development.
China has been the world's biggest gold producer for 10 years and the largest gold consumer for four years.
The country's gold output rose 0.76 percent year on year to 453.5 tons in 2016, with consumption hitting 975.4 tons.
Last year, global gold demand increased 2 percent to 4,309 tons, the highest since 2013, boosted by an uplift in gold buying amid political and economic uncertainties, data from the World Gold Council show.
The MIIT highlighted technology improvement and environmental protection in the gold industry.
It aims to consolidate and upgrade the industry by reducing the number of gold miners to around 450 from more than 600, and shutting down 40 tons of outdated production capacity by the end of 2020.