Mobike expands to Italy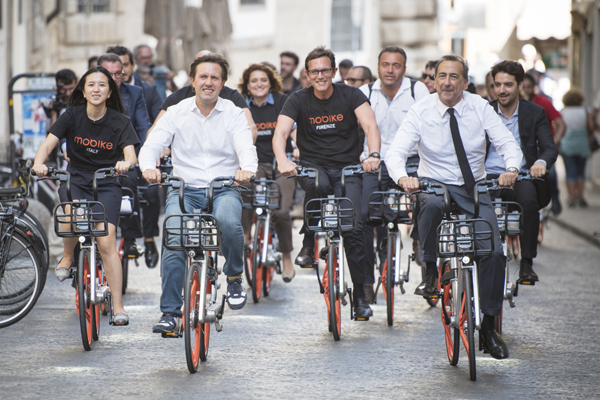 Front line from left to right - Hu Weiwei, founder of Mobike; Dario Nardella, mayor of Florence; Mobike staff and Beppe Sala, mayor of Milan, rode Mobike bicycles in Florence, Italy.[Photo provided to chinadaily.com.cn]
Mobike Technology Co Ltd, a major Chinese bike-sharing company, rode into Italy on Tuesday, as it expands its overseas presence to compete with its rival, Ofo Inc, outside China.
The move marks the company's first major push into the European continent after launching services in the United Kingdom, Japan and Singapore.
Mobike said it will first launch several hundred bikes in high-demand areas as a trial operation in the Tuscan capital of Florence. Residents can experience the bike with a promotional rate of 0.3 euro per 30 minutes.
The Beijing-based company also plans to launch its service in Milan, the largest metropolitan area of Italy. Formal services will be provided to all of Florence and Milan starting in August. About 4,000 bikes will be launched in August in each of the two cities.
"Florence has made an irreversible choice towards sustainable mobility today - we are proud to be launching this innovative system as Italy's first stationless bikeshare," Dario Nardella, mayor of Florence, said.
This new deployment in Italy marks Mobike's first venture into continental Europe, followed by its debut in Manchester in June and the company plans to roll out in London in late July.
According to Mobike, to date it has operated bike-sharing service in more than 150 cities globally and operates more than 6 million bikes around the world.
"We are delighted to enter the Italian market, and especially to launch Mobike's operations in both Florence and Milan, home to so many of history's greatest innovators and artists," said Hu Weiwei, Mobike's founder.
She also added that Mobike will work with their partners to preserve and enhance Florentines', Milanese's and visitors' enjoyment of both cities.