Game of cultural exports gets exciting and controversial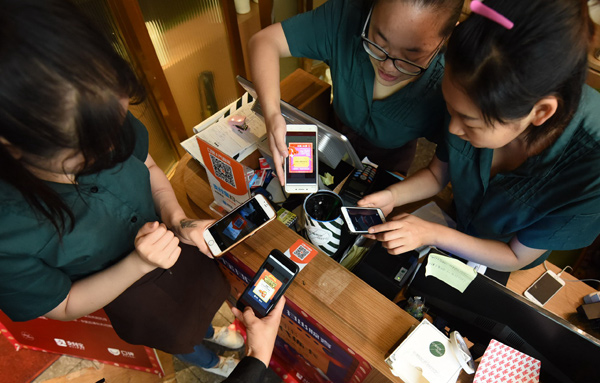 A restaurant in Hangzhou, Zhejiang province, uses King of Glory to attract more customers. The game has more than 200 million registered users. [Photo by Long Wei/For China Daily]
BEIJING-King of Glory, China's megahit mobile game, faces a domestic backlash over young players' addiction, but its march to the global market goes on unabated.
The multiplayer online battle arena, or MOBA game, has over 200 million registered users, with 50 million playing daily.
It was the world's highest-grossing mobile game in May, according to app market data provider App Annie.
Now Tencent, developer of the game, intends to replicate the success beyond the Chinese mainland.
Launched in Taiwan and Vietnam late last year, King of Glory is the most downloaded mobile game in both markets, according to Tencent.
It was also warmly received in Thailand and South Korea, where it was released earlier this year.
The game will hit the United States and Europe in the second half of the year, said Gao Min, brand manager at Tencent in charge of the game's overseas promotion.
The English version was put online in Turkey earlier this year, and topped Apple's app store and Google play's game download rankings there.
"We are fully confident of the market response in Europe," Gao said.
Ally of heroes
German journalist Finn Mayer recently downloaded the game and is learning the dynamics.
"I already got a better sword," he said. "It's very much like League of Legends in Europe and the good old Japanese RPGs (role playing games), including a cute female manga voice."
He believes the game has great potential but faces strong competition from the US League of Legends.
While Asian users are familiar with the game's historical and cultural background, it will be a more challenging task to win over Western players, Gao acknowledged.
The game features a large number of heroes from Chinese history or literature, such as the invincible warlord Lyu Bu from the Three Kingdoms period (AD 220-280). These characters strike a chord among Asian users who are much influenced by Chinese culture, but may not have the same appeal to Western gamers.
To cater to foreign tastes, Tencent has set its sights on bringing some iconic Western heroes, such as Batman, into the game, said Gao.
In addition, image and sound quality will be improved with background music from Oscar-winning composer Hans Zimmer. The duration of a single game will be reduced to suit the habits of foreign mobile users.
Side-effects
Despite, or perhaps because of, its huge popularity, King of Glory has recently found itself in controversy at home.
Tencent saw its market value shrink by $14 billion as its shares slumped 4.13 percent in Hong Kong on July 4, after People's Daily accused the game of injecting "negative energy" into society.
A teenager was reported to have suffered a stroke after playing the game for 40 hours nonstop, while another was reported to have stolen money to buy expensive add-ons, according to the People's Daily commentary.
The company started to limit minors' playing time Tuesday, cap underage users' consumption and reinforce the real name system.
Overseas, Tencent will follow local regulations and a game classification system is usually in place, Gao told Xinhua. China has no such system yet.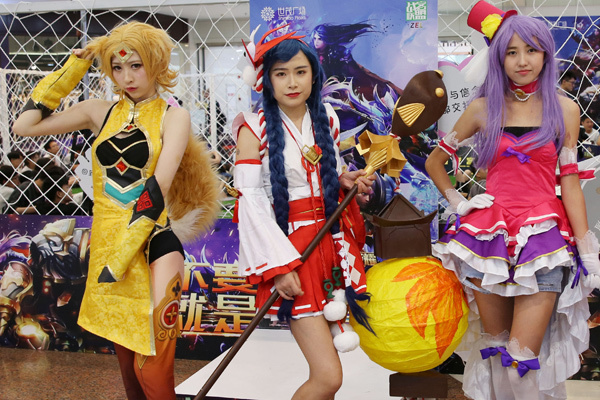 People in costumes at a contest site of King of Glory in Shaoxing, Zhejiang province. [Photo by Wang Zhicheng/For China Daily]
Soft power
The popularity of MOBA games has given those who want to boost China's soft power food for thought.
King of Glory is at the forefront of China's booming mobile game industry, which pocketed 82 billion yuan ($12 billion) in 2016, up 59.2 percent year-on-year, according to the China Audio-Video and Digital Publishing Association.
"Games are a universal language that everyone can accept and play," said Yu Guoming, executive dean of the School of Journalism and Communication, Beijing Normal University. He believes games are ideal products for cultural export as they contain "little ideology".
Fan Ying of the Institute for Cultural Industries at Peking University estimates game exports are growing at around 60 percent per year, leading the overall growth of Chinese cultural exports.
China tops the world in export of cultural products, but the percentage with intellectual property rights, such as films and games, is quite low, according to Zhang Xiaoming, a researcher at UNESCO.
But demand is rising as shown by the recent frenzy for Chinese web novels. The most popular genres are Wuxia (martial heroes), Xianxia (immortal heroes) and Xuanhuan (fantasy featuring adventures and wars), which are also mostly featured in online games like King of Glory.
The gap between demand and supply has long been filled by developed countries like the United States.
For instance, Kungfu Panda is made by the US, said Huang Bin, a researcher at the State Council Development Researcher Center. "Disneyland is home to all princesses from all countries."
For Huang, China has excellent culture, but lacks the ability to package, promote and make a profit from it.
King of Glory is providing a new paradigm. Apart from introducing Western characters, the team will fine-tune local characteristics and provide strong customer support to accelerate the game's globalization, said Gao.
"We have a team handling more than 50 languages and cooperation agreements with partners and distributors across the globe," he said. "We have spent a lot of time and money to improve our product and please our players."