Moutai University brews up plans for growth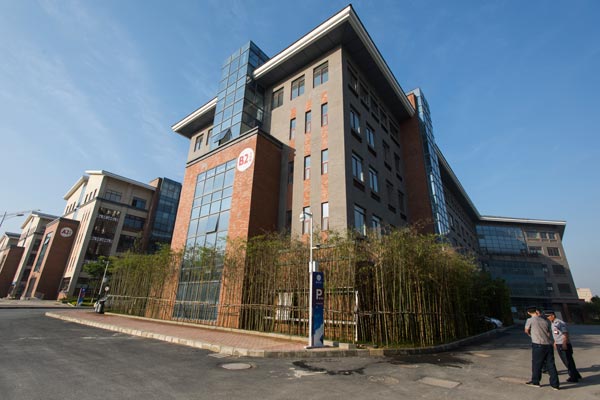 A corner of Moutai University in Renhuai in southwestern China's Guizhou province. [Photo by Chen Yong/For China Daily]
Moutai University, China's first university named after a liquor company, will start to recruit its first batch of students this summer.
The university was established in May, fueled by the booming growth of the liquor business in China.
This year, the university plans to recruit 600 senior high school graduates from Guizhou province, including 550 science students and 50 liberal arts students. The admissions will be conducted between July 27 and Aug 6. Next year, it is expected to recruit students nationwide.
With an investment of more than 2 billion yuan ($295 million) from Kweichow Moutai Co, the distiller of the iconic high-end spirit in the town of Maotai, the company aims to train more employees and improve the structure of its staff.
Currently, some colleges in China have been founded or sponsored by private companies, including Beijing Geely University that is named after car manufacturing enterprise Geely Holding Group, and Wuhan College, which is sponsored by Tencent founder Chen Yidan.
Feng Xiaolun, president of Moutai University, who used to be the executive vice-president of Guizhou University, said preparatory work to establish Moutai University began in 2012.
Feng said there had been an overwhelming number of inquires about the university from students recently.
"There are not many higher education institutions in Guizhou, and those enterprises with economic profitability should show their commitment to society. The liquor sector is the backbone industry in Guizhou, and Moutai Group has been endeavoring to contribute to the economic growth of the province."
Moutai University, located in a small town in Renhuai, Guizhou province, has established five undergraduate majors, including liquor-making, grape wine-making, food quality and safety, resource recycling science and engineering, and marketing. Ultimately, the university plans to recruit 5,000 students.
Currently, Moutai University has a total of 376 full-time and part-time teachers, including 126 professors and 102 associate professors. It is continuously supplying additional teaching resources, and plans to recruit 50 more full-time teachers soon.
Meanwhile, Feng said the university doesn't guarantee that the graduates can all work at Moutai, but it will help to recommend outstanding students. Besides, graduates will also have an advantage if they apply for jobs at other liquor companies.
"Currently, there are not many staff that have been specifically trained at Moutai. Nowadays, modern enterprises need those core employees with professional backgrounds to help the companies to constantly innovate and grow," Feng added.
"The university will also conduct more research about brewing technology and arts, in addition to further promoting Chinese wine culture."
Shen Meng, director of Chanson & Co, a boutique investment bank, said as a listed company with core technologies and resources, Moutai has a constantly growing demand for professional personnel.
"Those employees it recruits from various sectors are uncertain to meet its requirements, therefore it has set up a college, as it aims to directly train core human resources and lower the costs of human resource development."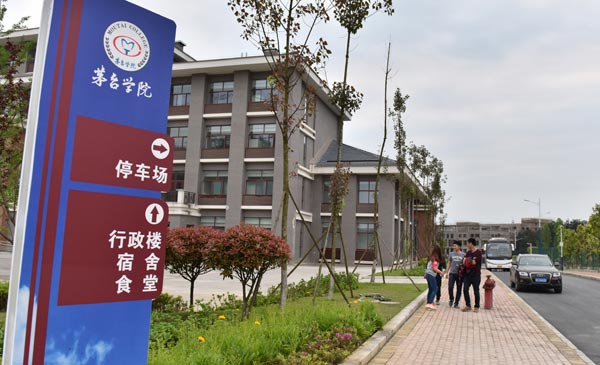 A road sign in Moutai University. [Photo by Chen Yong/For China Daily]
In June, Moutai posted a recruitment statement on its official website, saying that it plans to hire 337 new liquor-making workers, aged between 18 and 28, including 312 men and 25 women. The website later crashed after more than 300,000 people registered online.
In early July, Moutai announced a list of employees who have been accepted, and those who were born in the 1990s account for the majority of the new staff. Among the total, nearly half of the new employees graduated from universities in Guizhou province, and some others graduated from Chinese universities such as Sichuan University.
In the past five years, the company has not been recruiting new staff on a large scale, and this year, it hired new staff in an aim to meet its expanding capacity.
Wu Tianxiang, a professor at Guizhou University, said as Moutai has continuously seen its market value growing, the demand for skilled workers has been rising as well.
He said that after a few years of market volatility, the baijiu, or liquor industry in China is gradually recovering, and demand has expanded as consumer spending has risen.
"In the wake of the government's austerity drive and anti-graft campaign, the main consumer group of high-end spirits such as Moutai has shifted to middle-class Chinese consumers, and their demand remains significant."
Contact the writers at zhuwenqian@chinadaily.com.cn