Foreign trade prospects stay upbeat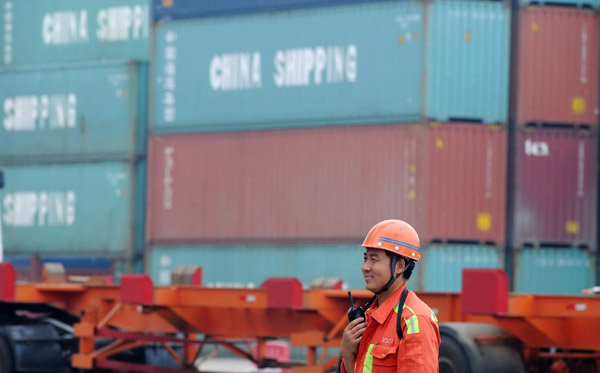 A worker directs the unloading of containers in Qingdao Port, Shandong province. [Photo by Yu Fangping/For China Daily]
China's foreign trade prospects are set to remain upbeat during the upcoming six months, after expanding at the fastest pace since the second half of 2011.
The General Administration of Customs said on Thursday that China's foreign trade was 13.14 trillion yuan ($1.94 trillion) from January to June, an year-on-year increase of 19.6 percent.
Exports amounted to 7.21 trillion yuan during the same period, up by 15 percent, while imports increased by 25.7 percent to 5.93 trillion yuan, leading to a 1.28 trillion yuan trade surplus, down 17.7 percent year-on-year, it said.
"The brisk growth was bolstered by a lower comparison basis, government support and healing global demand," GAC spokesman Huang Songping told a media briefing.
Considering a higher comparison basis, uncertainties in the global environment and deep-seated problems in the domestic economy, Huang emphasized a tough stance on foreign trade in the second half of this year.
"With China's trade structure optimized, and its quality and benefits improved, it's believed the economic prospects will remain good, whereas unstable and uncertain factors will still affect the foreign trade environment, and some deep-seated problems and difficulties will continue to exist in the long term," he said.
Tu Xinquan, a professor of foreign trade at the China Institute for WTO Studies at the University of International Business and Economics in Beijing, said China's overall foreign trade remained sound and steady.
"The trade volume has expanded and witnessed positive changes since the second half of last year, buffering the economy from a slowdown amid headwinds at home and abroad," said Tu.
"Trade prospects are expected to remain stable during the next six months, thanks to the current macroeconomic stimulus, structural reforms and economic recovery in the US and European countries."
Against the backdrop of global economic recovery, international market demand growth has boosted China's export volume by 8.9 percent, while the continuous optimization of the foreign commodities trade structure also led to the increase, which is in line with the stabilizing and positive trend since 2016, said Huang.
Rising external demand has led to an increase in exports during the past six months, while the increasing import volume and price of major bulk commodities including iron ore, crude oil and natural gas also contributed to the boost, according to the administration.
During the first six months, imports of iron ore, crude oil, soybean and natural gas hit 539 million tons, 212 million tons, 44.81 million tons and 31.09 million metric tons, which increased 9.3 percent, 13.8 percent, 14.2 percent and 15.9 percent respectively.
Imports of crude oil and copper reached 15.03 million tons and 2.23 million tons, a respective increase of 2.8 percent and 18.4 percent, and China's import prices have witnessed an overall growth of 12.7 percent, said the administration.
Huang said the rising import-and-export proportion of private businesses will ensure trade prospects remain stable during the next six months.
Imports and exports of private enterprises grew by 20.6 percent to 5.02 trillion yuan, accounting for 38.2 percent of the total national figure, 0.3 percent higher than in the previous year.
Exports by private businesses increased 17.8 percent to 3.37 trillion yuan, 46.7 percent of the total export value, according to the administration.
While imports and exports to traditional markets witnessed a full recovery, those to economies participating in the Belt and Road Initiative have also registered growth.
In the past six months, China's trade with the European Union, the United States and ASEAN members increased by 17.4 percent, 21.3 percent and 21.9 percent respectively, altogether accounting for 41.4 percent of China's total import and export value.
Over the same period, imports and exports to Russia, Pakistan, Poland and Kazakhstan increased by 33.1 percent, 14.5 percent, 24.6 percent and 46.8 percent respectively, according to figures from the administration.