The China-UK property connect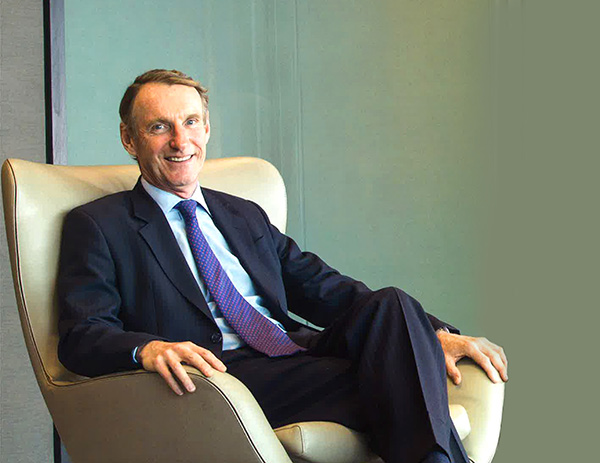 Jeremy Helsby, CEO of Savills plc, says the potential of China's property industry is immense.[Photo/China Daily]
Jeremy Helsby, CEO of Savills plc, says the potential of China's property industry is immense. [Photo provided to China Daily]
On a rainy afternoon in Shanghai, Jeremy Helsby asks for English breakfast tea to refresh himself. Equally refreshing is the potential of China's property industry, said the London-based realty veteran.
As CEO of Savills plc, a leading real estate services provider, Helsby travels more frequently than ever to China these days. The UK and China markets may be thousands of miles apart, in different time zones and at various stages of development, but they are connected closely by investments and services.
So, the two markets will benefit from collaboration, increasing investment and mutual learning, he said.
For real estate players to survive in hard times and thrive amid fast growth, what's needed is visionary long-term investment based on research of fundamentals. The players concerned need to "add value" to properties and land. That could help boost understanding and create good opportunities in markets across the world, he said.
Globally as well as in China, Savills competes with JLL, Cushman & Wakefield, CBRE and Colliers, all international realty services providers. In China, Savills attaches great importance to servicing local clients and expanding fast in central and western parts of China where population, availability of human resources and infrastructure are growing at a fast clip.
Established in 1855, Savills entered the China market in 1995. By June 2017, it had served tens of thousands of clients, and covered 30 million square meters, including China's tallest building, the Shanghai Tower.
Since Helsby also serves as director of Savills Asia, he knows the China market inside out; and he sees opportunities to "add value" to land and properties. He senses one such opportunity in the Belt and Road Initiative.
Players in UK financial services can contribute massive investment to infrastructure projects that are coming up in countries and regions participating in the Initiative, he said.
Use of renminbi in London is more than in any other European city. Given that London is a financial hub, the UK's financial services providers will play a key role, he said.
"Many construction firms with expertise in the most complicated projects are based in London, and are likely to get involved to support the Belt and Road projects," he said.
When infrastructure projects like roads and railways become operational, costs will fall for both importers and exporters, and trade will become more active. Consequently, the value of properties in countries and regions participating in the Belt and Road Initiative will appreciate, he said.
According to Savills data, commercial property markets have largely stabilized after the Brexit referendum in June 2016. While occupational uncertainty has risen, there is little sign that this is affecting investor confidence, with £13 billion ($14.56 billion) invested in the UK commercial property in the first quarter of this year.
Some 56 percent of it was from foreign investors, including those from China who spent more than £3.3 billion so far this year. Chinese investors have taken a shine to London offices, where the property market tends to be volatile; but other cities in the UK are less volatile as they are less exposed to the impact of Brexit.
So, it is possible that Chinese investors may find property in regional cities of the UK attractive in the future. Generally, yields in Europe are still quite attractive for Chinese investors, and returns on investment, particularly in the UK, are strong, averaging 6.3 percent per year over the last 20 years, he said.
Currency exchange rate is another reason that encourages Chinese investors to look at quality properties in the UK, as the pound dropped some 10 percent against the renminbi in the past two years.
Besides increasing investment overseas, Chinese investors are seeking to add value to properties in their home market, through new models of development and management, said Helsby.
Such trends catch his attention immediately because he is sensitive to them, having joined Savills' London West End office in 1980 at the age of 25. He has seen the shrinking of supply of new land for development; he is aware of rising home prices; he knows more young residents are turning from homebuyers to tenants.
In this context, China is not very different, Helsby said. He believes reinvestment in cities is the right choice and key to continued success. "Businesses, workers and residents are becoming more demanding of infrastructure and the environment, and with rising global competition, the best cities will be those that regularly reinvent themselves."
For instance, London's focus is on infrastructure improvement, the development of cross-rail, the Oxford-Cambridge Corridor. These projects attract companies from similar sectors, resulting in a cluster of supply chain and value chain, significantly changing the housing scene in London.
Working professionals can take advantage of convenient intercity railway and bus services to commute between workplaces in big cities and homes in suburban or satellite cities. More residents are choosing to rent instead of buying apartments. Developers and managers of properties are responding to such changes, he said.
"Strong transport links and development of the local economy are critical. A city with a long-term plan for development of a specific industry will attract people and companies, such as tech and biosciences in Cambridge and media in Bristol," he said.
Big cities such as Beijing and Shanghai are introducing stricter population control, and China's urbanization drive is likely to focus more on second- and third-tier cities where costs are lower and an increasing number of economic opportunities are emerging.