Moutai goes on the hunt for new hires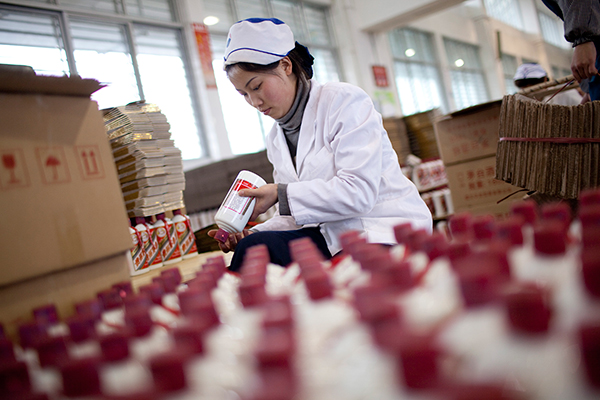 A worker packages liquor at a plant of Kweichow Moutai Distillery Co in Zunyi, Guizhou province. [Photo/Agencies]
Kweichow Moutai Co, the best-known expensive Chinese liquor, is hiring more than 300 new wine-makers, as the company sees its market value grow, with the market for baijiu gradually recovering, and demand expanding as consumer spending rises.
On Wednesday, shares of Moutai dipped 1.82 percent and closed at 475.3 yuan ($69.9), and it stands as the highest share price among Chinese companies. This week, the market value of Moutai exceeded 600 billion yuan, which topped that of other global liquor producers.
A 500 ml bottle of Moutai's classic Feitian 53 percent alcohol has been selling for as much as 1,299 yuan on JD.com, one of the leading online shopping platforms in China, and it is higher than the price of 1,288 yuan posted earlier this year.
Meanwhile, Xiao Zhuqing, general manger of Shandong Wenhe Wine Group, said Moutai experienced a brain drain as some senior employees went to work at various other liquor firms nationwide, and Moutai needs to hire a large number of new employees.
"Liquor production needs the inheritance of traditional crafts and hand-made techniques, and the training model is that apprentices learn from teachers."
Last week, Moutai posted a recruitment statement on its official website, saying that it plans to hire 337 new employees, aged between 18 and 28, including 312 men and 25 women. The website later crashed with after more than 300,000 people registered online.
The job requires employees to have a bachelor's degree or above, and they have to pass physical fitness test and writing tests, including Chinese, mathematics and political science and current affairs.
From Wednesday to Friday, the company will organize fitness tests. Within 4 minutes and 30 seconds, men need to finish running 1,000 meters and women are required to finish running 800 meters.
Local residents regard it as one of the top choices to work at Moutai, which is located in the small town of Maotai, a remote area of Guizhou province in southwestern China.
It is reported that wine makers at Moutai work about five hours a day, and their annual income is about 130,000 yuan, which is considered high in Guizhou province, where housing sells for an average of 5,000 yuan per square meter.
Moutai employees said that the work intensity at the brewery has been high, and the plant has a high temperature, as fermentation needs an environment that is closed and without ventilation.
As a rare resource, Moutai liquor has entered a period of growth, and its booming business will last through the 13th Five-Year Plan (2016-20), according to a report from Industrial Securities.