Mafengwo dominates online travel picture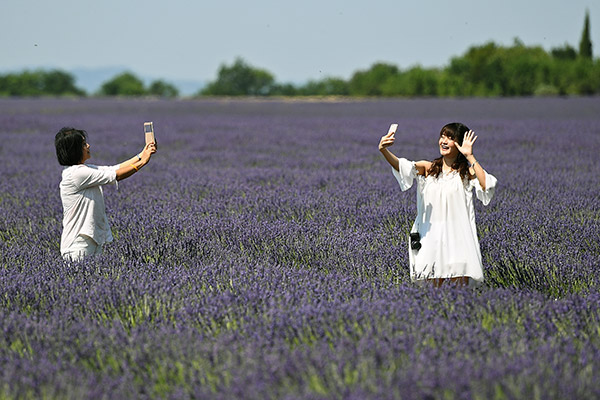 Chinese tourists make selfies in a lavender field in Valensole, southern France, June 18. [Photo/Agencies]
Tourism site and app is the darling of investors as it targets Millennials and their love of new experiences
To make it big, you need big dreams. When it comes to vision, Chen Gang plans to turn his company Mafengwo into the "Alibaba of the tourism industry".
Rarely, do you get anything bigger here than the online behemoth, but then Chen is not just a dreamer.
The co-founder and chief executive officer of Mafengwo has decided to add a glitzy app platform to his major website to cash in on the booming travel industry of Millennials.
"The Chinese tourism market is so huge that it is estimated to hit 1 trillion yuan ($146.2 billion) in the foreseeable future," Chen said. "Just like Alibaba (Group Holding Ltd), we are now offering an e-commerce platform for potential tourists."
Since it started commercial operations in2010, the Beijing-based company's online website of travel guides, advice and booking options has proved to be a runaway success.
Today, Mafengwo has launched an app to go with its website business and now has more than 100 million users. They go through the latest travel information, glance at Q&As and reviews, as well as book hotels, travel destinations and local tours.
"Chinese tourists now have better jobs and know how to share information, especially those born in the 1980s and the 1990s (Millennials)," Chen said.
"Driven by life quality decisions,more people will choose independent travel instead of traditional package tours," he added.
This is where the app comes in. According to online data company Analysys Qianfan, Mafengwo's app had more than 3 million active monthly users in April, a jump of 18 percent compared to March.
With figures like that,Chen's company was able to generate 4 billion yuan in gross merchandising value last year.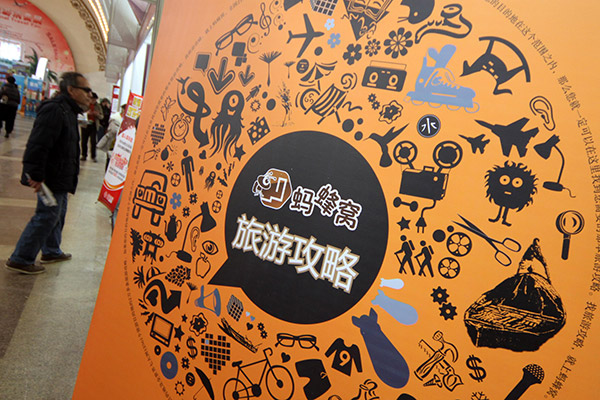 An exhibit booth shows the billboard of Mafengwo at an international tourism fair in Beijing. [Photo/China Daily]
The vast majority of it came from independent travel products, advertising and commission collected from hotels as well as local agencies. But he declined to give detailed financial figures for the privately-owned company.
"I expect gross merchandise value on our platform will grow by 200 percent this year compared to 2016," he said. "We have grown up in the new era of data and that means it will be a strategically key resource."
Investors have bought into Chen's dream. So far, they have poured over $100 million into it, including tens of millions of dollars in the latest C round of funding in 2015. A great deal of that investment will go into "artificial intelligence technologies" to help expand the app and website operations, as the company continues to upgrade its services for users and customers.
In a constantly changing business environment, the travel sector is going through a dramatic new stage.
Last year, Chinese tourists made more than 4 billion inbound trips and 122 million outbound journeys, according to a report released by China Tourism Academy and online giant Ctrip.com International Ltd.
The report also showed that 60 percent of outbound trips in 2016 were down to independent travelers and not groups.
Millennials have played a key role in the change as they love different and often offbeat destinations. They also tend to share their experiences online.
For social travel platforms, such as Mafengwo, that has proved to be a golden business opportunity.
"Our platform will generate a huge amount of travel information coming from millions of tourists globally every day," Chen said. "This will include pictures, travel guides, Q&As and views.
"But using big data and AI technologies, we will help transform that into gripping travel information," he added.
The company already operates a data center to process information from registered users. Now, it will be shifted to produce personalized travel products and services.
Jiang Xinwei, senior analyst from internet consultancy Analysys in Beijing, singled out innovation as Mafengwo's crucial draw card.
"By having a large number of users, Mafengwo is able to produce big data analysis to cater for specific needs," she said. "This will transform travel products, but it will also be challenging for companies."
In order to tap into this trend, online travel titans, such as Expedia-like Ctrip and Tuniu Corp, are building online "communities" to boost more user-generated content online.
"Content generation and the purchase of travel products will help during the course of the platform's development," Chen said."With the improved technologies and changing travel habits, companies need to provide more personalized products and better user experiences."