A-Z in cross-border e-shopping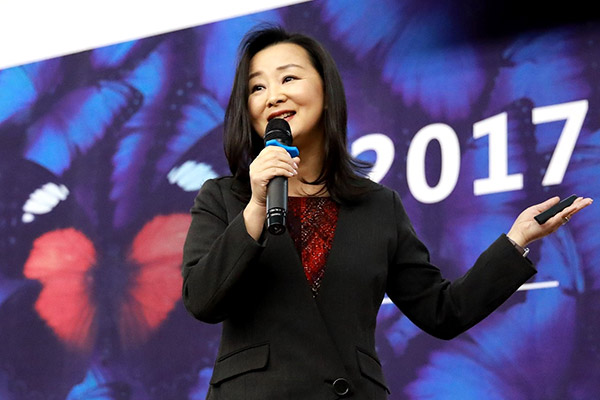 Elaine Chang, president of Amazon China, says she takes "a lot of pride in hiring people smarter than me in specific areas". [Photo provided to China Daily]
Elaine Chang helps Amazon to find the sweet spot in China market
How would you sell a foreign online marketplace to Chinese consumers who are used to buying everything from e-commerce behemoths such as Taobao, Tmall and JD, and other local niche players?
For Elaine Chang, president of Amazon China, the key is the rising popularity of cross-border online shopping, a business that Amazon dominates globally.
"The demand for international brands is rising rapidly, thanks to cross-border online shopping, which is probably one of the fastest rising trends in e-commerce," Chang said.
Perhaps, nowhere is the trend more evident than in China. Majority of Chinese consumers are part of the country's huge, upwardly mobile, increasingly brand- and quality-conscious middle class.
China's cross-border online shopping grew 23.5 percent to 6.3 trillion yuan ($924 billion) in sales last year, according to iiMedia Research, a market consultancy.
At the same time, more than 15 percent of Chinese consumers made purchases worth $85.76 billion from abroad, according to consultancy eMarketer.
By 2020, a quarter of the Chinese population, or more than half of all digital buyers, will be shopping either directly on foreign-based websites or through third parties.
"China is a very important market for Amazon. We're committed to growing our business here," said Chang, adding she is very optimistic about Amazon's prospects in China.
Being a vice-president of parent Amazon as well, Chang is quick to spot global trends, technologies and practices in e-commerce and explore if they could be applied in China.
As head of strategy, business development, e-commerce management and the Kindle business in China, she is driven by the challenge of making authentic overseas products available to Chinese consumers.
Chang believes Amazon has big opportunities in this respect. So, she is not unduly intimidated by the big reputations and entrenched presence of local giants.
Amazon's global network is another advantage, especially for Chinese sellers who "are not only willing to serve domestic customers but want to take their high-quality products globally" through Amazon's marketplaces in nine countries, including the US, the UK, Germany and Japan. This helps build their brands globally, which results in better product quality down the line.
Chang said China's Belt and Road Initiative has injected new energy into cross-border e-commerce. Guided by the initiative, an increasing number of quality-minded Chinese enterprises are expanding their overseas businesses.
"Through Amazon Global Selling, tens of thousands of China-based sellers can now sell via Amazon marketplaces in nine countries. In addition, Amazon's global logistics network across 185 countries and regions has helped to establish an effective 'Online Silk Road' for Chinese enterprises going global," said Chang.
So, cross-border e-commerce will play an increasingly important role in the country's economic growth, she said. "We need to focus on customers' demands and drive local innovations to provide better support."
Toward that end, Amazon launched Amazon Prime in China, the first unlimited free cross-border shipping membership program globally in October 2016, in an attempt to lure the rising number of quality-conscious Chinese buyers to buy foreign products.
From Amazon's perspective, cross-border e-commerce is expanding customer bases and encompassing different age-groups, including younger and older generations.
So, Amazon China is expanding its city coverage, moving beyond first- and second-tier cities to third- and fourth-tier cities.
It has a presence in cross-border e-commerce, books, e-books, e-book readers (Kindle devices), logistics and web services.
Chang said Amazon China will continue to innovate in response to the demands of local customers, sellers, developers and enterprises.
In the past, Chang had introduced selections from Amazon UK and Amazon Japan to Amazon Global Store. Some of the categories included are shoes, toys, baby products, personal care, apparel, jewelry, camera, kitchenware, cosmetics, watches and luggage. "We'll continue to grow selections and categories," she said.
Launched in November 2014, Amazon Global Store is the first localized global e-store that offers a selection of millions of items across 30 categories.
In China, it provides a localized shopping experience. Users can log in by way of their existing Amazon user ID and password, use the same shopping cart and local payment systems, and benefit from China-based customer service.
All this hectic activity at Amazon China happened in a little over four years.
Chang joined Amazon as vice-president and general manager of Kindle China in 2013. In the following three years, with the Kindle China management team, she integrated the Kindle with Amazon's digital publishing ecosystem in China.
She brought the Kindle's full product portfolio and the Fire tablet to China. The Kindle e-book selection has expanded from 24,000 titles to 420,000 on the back of partnerships with more than 660 publishers.
Prior to Amazon, Chang worked for Intel for nearly 20 years, holding several management positions in the US, Asia Pacific and China.
For her, team building is important. "I feel my success is not on how smart, great or hardworking I am, but how strong my team is. I take a lot of pride in hiring people smarter than me in specific areas. My job is to help talent grow and let the team go in a certain direction."