Gaming giants on the winning track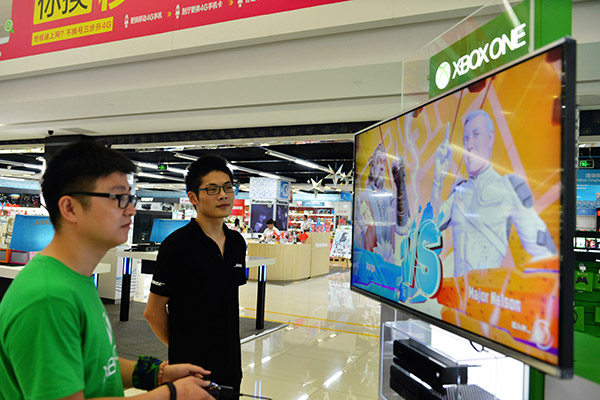 A customer tries the Xbox One game console at an electronics store in Hangzhou, Zhejiang province. [Photo/China Daily]
Gaming giants Microsoft Corp and Sony Corp have expanded their reach here after being banned before the China (Shanghai) Pilot Free Trade Zone was launched nearly four years ago.
The big two games console manufacturers were shut out of the market in 2000 and only broke back in more than a decade later.
Microsoft decided to link up with BesTV, a leading television group based in Shanghai, to set up a joint venture, which became the first company to be registered in the FTZ in 2013.
Sales revenue of the company's Xbox consoles quickly started to rise, exceeding $10 million annually in China.
In the past three years, sales of hardware and software have maintained double-digit growth, with combined sales from Microsoft and Sony hitting nearly 1 million consoles.
To Xie Enwei, general manager of Xbox and studios business at Microsoft China, conceded it would never have happened without the help of Shanghai FTZ.
"We completed the filing and registration of our joint venture with BesTV within seven days," he recalled. "Our solely-owned game and entertainment equipment company was set up within 15 days."
Sony went down a similar route. The Japanese conglomerate set up a joint venture with local media company, Oriental Pearl, in 2014 to produce and sell its iconic PlayStation console.
A year later, PlayStation 4 and PlayStation Vita were officially launched in China.
"FTZ authorities provided an ideal business environment for the company," said Takehido Soeda, the head of Sony China. "The joint venture was the first step and we will expand our business portfolio in the zone."
A streamlined process when it comes to business and administration licenses has made it much easier for console makers such as Microsoft to operate here.
New policies covering work permits for "overseas experts" have also helped with Xbox's development in China.
"The system is much more efficient than many other countries and regions," Xie said.
On the back of this, Microsoft has rolled out more than 50 Xbox games here as well as developing domestic content.
The global online behemoth has also teamed up with leading Chinese players such as Tencent Holding Ltd and NetEase Inc to help Chinese games developers reach overseas markets.
"The Shanghai FTZ authorities have made great efforts to promote the Chinese games industry," Xie said. "They have come to understand that it will be difficult to seek sustained growth if Shanghai is over reliant on manufacturing."
Figures by global market consultancy IDC show that the Chinese game console market still has room to grow in the next few years.
In 2016, the size of the sector was estimated at 4.03 billion yuan ($593 million) with console sales topping 660 million yuan-a 200 percent rise year-on-year.
IDC has also predicted that the total number of game console users here will increase 10 times to 10.47 million by 2020.